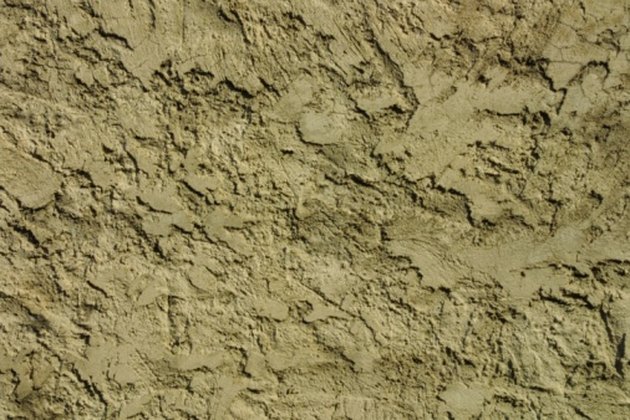 Ceilings have been plastered for centuries, yet more decorative textured plasters are seen in modern homes. A stucco finish often is hand troweled and leaves a natural, stone look on the ceiling. Alternatively, a popcorn finish was seen more often in the early 1970s than in today's new construction homes. The finish was often referred to as a cottage cheese finish as it resembled the food. The thick popcorn finish occasionally contained glitter for extra sparkle. Understand the benefits and drawbacks of each finish.
Pros: Popcorn Ceiling
Many drywall specialists continue to offer popcorn ceilings. The ceiling is inexpensive and quick to apply. It hides most drywall imperfections, which is ideal for construction contractors as they no longer have to finish ceilings to perfection. Flaws such as warped drywall or popped nails are easily disguised when popcorn ceiling texture is sprayed on the surface. Contractors occasionally do not even paint the ceiling once textured, leaving it with a flat, dry look ---saving time and money to paint the ceiling. The ceiling acts as an acoustical sound barrier, which is important if the room has high ceilings or tile or wood floors.
Pros: Stucco
Stucco finishes have many of the same benefits as the popcorn texture. However, the stucco look is a more high-end finish and requires additional troweling and maneuvering of the plaster. Stucco also works as a sound barrier and hides drywall imperfections. It is a more individualized look if you are looking for your home to stand out from others. The stucco look may also be faux finished with a variety of glazes, stains and metallic paints.
Cons: Popcorn
One of the drawbacks of popcorn ceilings is that they are difficult to clean. The textured effect of the popcorn finish attracts dirt, soot and dust in corners. The peaks of the texture often have spiderwebs attached. Over time the finish often peels, stains or yellows. Popcorn ceilings have fallen out of popularity and are not often seen in as many homes.
Cons: Stucco
Naturally stucco finishes are more expensive because of the time and expertise the plaster takes to apply the finish. The finish, similar to the popcorn finish, may attract dust and dirt in the crevices of the texture. The finish is considered permanent, and removal is very difficult. The thick plaster cannot easily be sanded off.
---
Julie Hampton has worked as a professional freelance writer since 1999 for various newspapers and websites including "The Florida Sun" and "Pensacola News Journal." She served in the U.S. Army as a combat medic and nurse for over six years and recently worked as the Community Relations Director for a health center. Hampton studied journalism and communications at the University of West Florida.