Things You'll Need
Vacuum

Double sided tape

Seam adhesive

Carpet roller

Knee kicker

Carpet stretcher
Tip
Keep windows open and close the door of the room to reduce the amount of dust that can spread to the rest of the house.
Warning
Refrain from using a knee kicker to attach the carpeting in the entire room, because the carpet will not properly attach.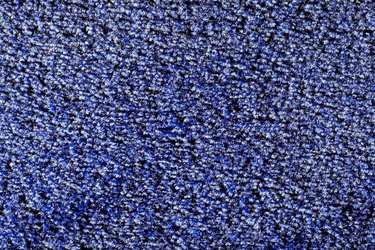 Typically, carpet is attached to floors by tackless strips or double sided tape. Lumps generally occur in carpeting from poor carpet installation, severe humidity affecting the carpet adhesive or carpet seams buckling from wear and tear. Not only are lumps unattractive and cause eye sores, but they are a hazard that causes trips and falls. Get the lumps out of your carpet to restore the look and safety of your home.
Prepare the Area
Step 1
Move all furniture out of the room. Vacuum the carpet to reduce the amount of dust and carpet fibers that will be released when re-installing the carpet.
Step 2
Lift the carpet starting with the one corner of the room and work your way around the room. Center your carpet and check the seams to see if they are causing the buckling.
Step 3
Fix carpet seams by pulling the steams apart. Lay down a piece of double sided tape in the middle of where the seams meet. Apply a seam adhesive to the seams and butt them together. Roll a carpet roller on top of the seams to press them to the double sided tape.
Double Sided Tape Installation
Step 1
Lift up the old double sided tape from the floor. Place a piece of double sided tape along the room's perimeters. Keep the top protective paper on the tape on. Make sure that the carpet is centered.
Step 2
Remove the protective paper and press down the carpet. Work along the wall of the room.
Step 3
Roll a carpet roller over the double sided tape to attach the carpet to the tape. Avoid using the room for 24 hours to allow the adhesive to stick to the carpeting.
Tackless Strip Installation
Step 1
Center the carpet and place a knee kicker 1 foot away from the wall in the corner of the room. Press the knee kicker with your knee, so its teeth grabs the carpet and attaches it to the tackless strips.
Step 2
Move the knee kicker to the adjoining wall and attach the carpet. Move along one side of the wall every foot to attach the carpeting.
Step 3
Place a carpet stretcher next to the opposite corner of the room. Press the lever, so it attaches the carpet to the tackless strips. Attach the carpet every foot along the wall.
---
Faith McGee has eight years experience conceptualizing and producing print and web content for a myriad of real estate conglomerates. She has a Master of Fine Arts degree in creative writing from California College of the Arts. McGee has developed persuasive copy that has received many accolades from real estate companies and publications.