There's a wide variety of siding options on the market today, but one stands out above the rest. Fiber cement siding is durable, affordable, low maintenance and has an overall sleek look. Though alternatives like vinyl and aluminum have a lower price tag, fiber cement siding makes up for its cost in longevity. Aesthetic options for fiber cement siding are plentiful, meaning more room for style matching and customization for your home or building's look. Hardware stores like Home Depot and Lowe's make it easy to choose the right size, color and texture of your siding. Sustainable materials in this siding prevent heat transfer, thrilling green-minded homeowners with its eco-friendly qualities. Engineers design fiber cement siding to be fireproof, weatherproof and insect-proof.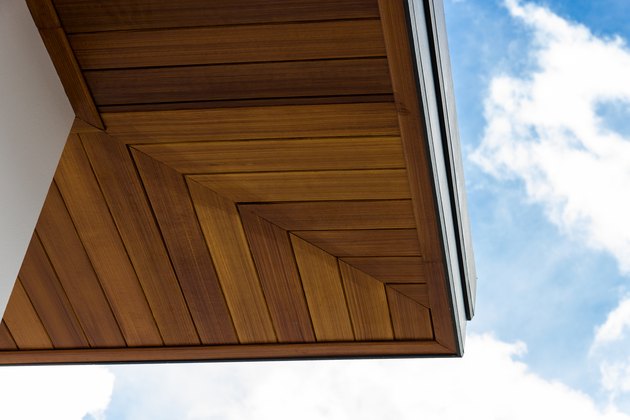 What Is Fiber Cement Siding?
Asbestos was originally included in this century-old siding material, which can be harmful to human health. Due to these health concerns, wood fibers replaced asbestos in the 1980s, successfully reviving the use of fiber cement siding.
Typically, a mixture of Portland cement, sand and wood pulp are the key ingredients in fiber cement siding. The wood fibers reinforce the cement, forming a strong material optimal for building.
The production of fiber cement siding begins with sand. Manufacturers grind silica sand into a fine powder, which they then liquefy and mix with a hefty amount of cement and wood pulp, or cellulose fibers, to give the material its signature strength and flexibility. Factories produce sheets of the siding, printed with wood-like patterns, to sell to consumers. Without cellulose fibers, the siding would be susceptible to cracking.
Comparing Siding Materials
Other common types of house siding include vinyl, masonite and various forms of wood. These materials, along with fiber cement, all have pros and cons.
First, consider wood. Wood siding comes in many forms and is a popular choice for those aiming for a natural feel. Wood has a timeless, classic look that most sidings attempt to adopt. The types of wood siding include hand- or machine-cut shingles, clapboard and solid wood. Though the material is readily available and easy to install, it's susceptible to water, fire and insect damage. Its eco-friendly quality has unfortunate safety drawbacks.
Masonite siding is synthetically constructed from cellulose fibers, wax and other resins. Like fiber cement siding, this material is durable and stylish, however it is not weatherproof. The material may buckle when exposed to a rough outdoor environment and has issues with rotting, softening and leaking. Humid weather conditions can cause a buildup of toxic mold within the walls, and the thickened wood fiber material attracts hazardous pests.
Perhaps the cheapest option when it comes to siding is vinyl. Visually, there is no better siding option as manufacturers make vinyl that resembles just about everything using moldings. Vinyl is very low-maintenance but is not watertight. Rain is able to get behind the siding during storms, eventually causing mold and rot.
Types of Fiber Cement Siding
There are four varieties of fiber cement siding. They are all strong and durable, but they each have unique qualities.
Shingle fiber cement siding comes in individual shakes resembling wood shingles. This style is available in a wide variety of shapes and sizes and is easily customizable to complement the style of your home. You can even install shingle fiber cement siding yourself by using caulk and nails to attach individual shingles to a sheet of weatherproof aluminum.
Lap fiber cement siding appears row by row. You can paint, stain, and texturize this siding to fit your needs in a wide range of climates.
Lap siding makes a great DIY project. Just nail each board onto your home's exterior. You need strategic placement of each row to achieve a clean, level look.
Stylish homeowners on a budget will love stucco or brick fiber cement siding. The siding is affordable but resembles high-price stucco. This particular siding will need professional installation for a top-notch look.
Sheet form fiber cement siding is available in large sheets and multiple textures. This low-cost siding option gives homes a modern finish.