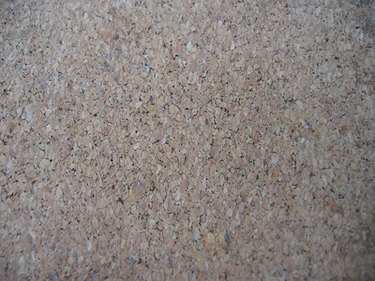 Cork board is commonly thought of as a porous, brownish material used on bulletin boards to pin notices and advertisements. Cork board also has thermo-resistant properties, and can absorb a relatively high amount of heat.
Cork
Cork refers to a buoyant material composed of suberin. Suberin is a waxy substance found in plants, primarily the Quercus suber, or Cork Oak. Cork is used in a variety of products due to its impermeability, elasticity and fire resistance.
Thermal Insulation
Due to its density, cork board possesses high thermal insulation, or resists the build-up of heat. The average mechanical thermal resistance of cork board is 2.2 kg/m3 (kilograms per cubic meter), which is defined by mass in kilograms divided by the amount of volume in cubic meters.
Thermal Conductivity
Cork board thermal conductivity, or the ability of cork board to conduct heat, is highly limited. The average rating of cork in the form of cork board or cork slab is .042 W/m K (watts per square meter per Kelvin).
---
Andrea Stein has been writing since 2004. She was a features editor for "Hallmark Magazine" and has served as newsletter editor for several nonprofit organizations. Stein has also worked in public relations, marketing and administration. She earned her Bachelor of Arts in English from the College of Dupage in Illinois.