Mosaics have ancient roots. Greek artisans perfected the mosaic art form, constructing brilliant multi-piece scenes and portraits over 2,000 years ago. Today the term "mosaic tile" denotes a material nearly as varied as the term "tile" itself, commonly referring to small pieces of typically sheet-mounted tile used in a home. Thickness varies between different mosaic materials.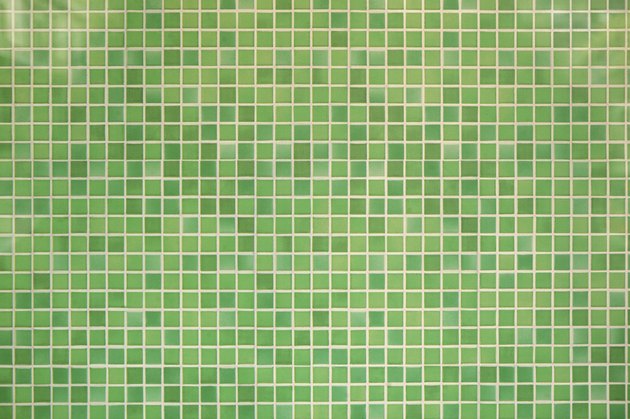 Glass mosaic tile is constructed of silica, colorants and additional compounds melted together in extreme temperatures. The special composition makes them durable yet extremely thin. In some cases, glass mosaic tile is even as thin as 1/16 inches. The thickness of 1/2-inch- and 1-inch-wide glass mosaics average 1/8 inches and rarely exceed 3/16 inches.
Travertine, slate, marble -- and in rare cases even granite -- comprise natural stone mosaics. They are sheet-mounted in a diverse variety of patterns, including so-called "herring bone," basket weave, hexagonal and square. Shower floors feature natural stone mosaics, as do complementing/contrasting design additions within the framework of a greater tile area. Natural stone is far less dense than man-made varieties of mosaics, requiring additional thickness to ensure the strength of the tile. Natural stone tile mosaic thickness varies from 1/4 to 3/8 inches.
Like glass, ceramic mosaics are thin and used in kitchen backslashes, pool areas and decorative details within other tile (flooring, shower walls). Thickness differs between make, style and size (most ceramic mosaic tile is 2 inches wide) but averages 3/16 inches and less.
Porcelain, ceramic and glass tile mosaics are impervious to moisture, but the adjoining grout requires sealant and upkeep. Natural stone mosaics are much more finicky and demanding, requiring frequent sealing and cleaning with a pH-neutral soap or tile cleaner.