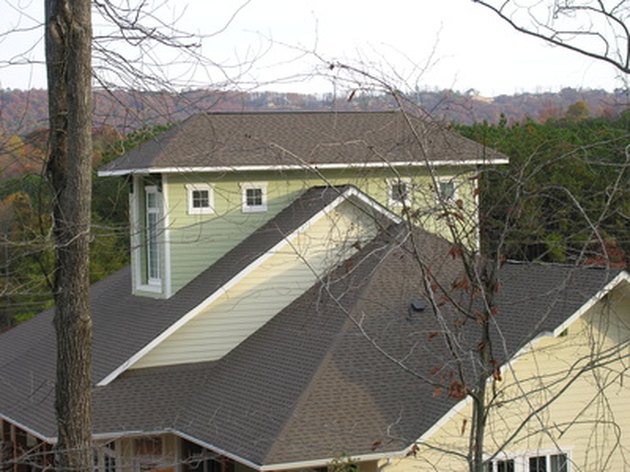 Composite shingling is a standard building material for covering and waterproofing different roof styles. Whereas the older asphalt-only roofing shingles are generally rated to last 20 years, composite shingling can have a longer lifespan depending on the conditions. As with any building material, the environment and conditions where the shingling is installed have a dramatic impact on the material's lifespan. Keep this in mind when installing any type of shingle and consider it an additional factor when calculating when you will have to do it again.
Desert
The desert is a great place for shingling of all types. Contrary to common assumptions, heat alone will not impact the fiberglass and asphalt composition of the shingling. The absence of rain, snow and ice only adds more years to the lift of the roofing.
Of course, one weather condition that does occur in the desert is high winds. High winds can shred any roof in a short matter of time. Over time, continuous high winds in the dry desert heat can weaken the composite shingling's fastening to the wood roofing material. If you live in desert conditions, it would be good practice to inspect the roof on an annual basis around the same time of year. This isn't to look for wear on the roof but to ensure against specific damage from high winds gripping and loosening the shingles. This can add another 20 years to the life of your 20-year shingle installation.
Rain
Constant rain, as in the South and Atlantic seaboard during certain times of the year, will affect the lifespan of composite shingling. Although the shingle's purpose is to keep everything watertight, constant rain can find a way into a crevice or weakness in the shingle layer. This can affect the underlying wood and weaken the shingle's attachment to the roof. Whether the shingles last 20 or 50 years will not matter if the wood beneath the shingles is deteriorating.
The best inspection method for wood roofs is from the inside. Look for discolored areas from wet wood. Look for missing shingling nails that have worked loose because of weak wood. With proper inspection and care, a composite shingled roof in wet conditions can easily last 20 to 30 years.
Ice
Water expands when it freezes, and expanding ice can wreak havoc on shingles of all types. Make it a point to inspect your roof before and after the winter months and look for changes in the attic and any loose shingles on the roof. With proper care to any damaged individual shingles, you can extend the life of your composite shingle roof another 10 to 15 years.
---
Wesley Tucker is a lifelong southerner whose politics are objective, whose sports are many and whose avocations range from aviation to anthropology to history and all forms of media. With a master's degree in mass communications from the University of South Carolina College of Journalism, Tucker has been a writer for more than 30 years, with work ranging from news reports to feature stories.