Cool under the feet, durable and easy to maintain, ceramic or porcelain tiles are the dominant choice for all-over flooring in warm climates and in kitchens and baths everywhere. With choices ranging from natural-looking ceramic terra-cotta to intricately designed hand-painted porcelain tiles, the decision of which to use can be complicated. Location, degree of traffic and price guide the choice.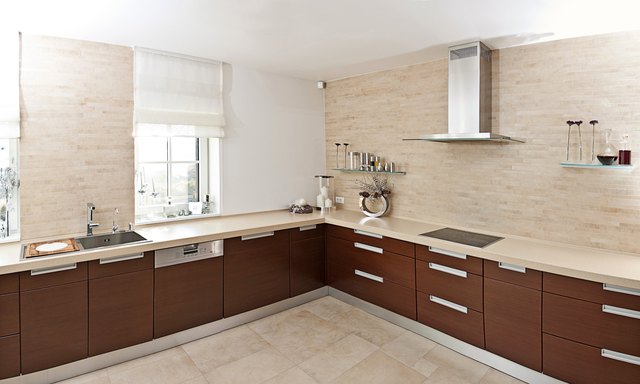 credit:
grafvision/iStock/Getty Images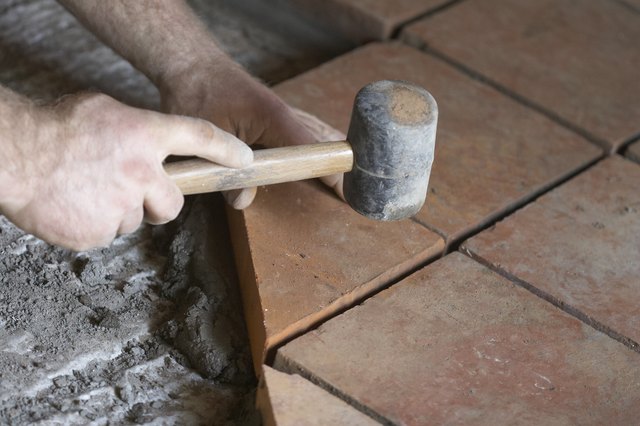 credit:
Errol Brown/iStock/Getty Images
Both ceramic and porcelain tiles are made from a base of natural clay, plus a mixture of minerals and water. Ceramic clay is often red or brown, occasionally white, and the refining process is less intense than for porcelain. Kiln firing hardens the clay, creating a durable product. While ceramic goods have been in existence for over 4,000 years, porcelain production began only in the 1300s, when the Chinese introduced finely ground sand into white clay, known as kaolin, and fired the composition at temperatures that greatly exceeded that of ceramic kiln firing.
credit:
robinimages/iStock/Getty Images
The basic ceramic tile has a highly porous surface. Color and design are added, and glazing seals the tile with either a glossy or matte finish. Underneath the surface glaze color, the original clay color dominates and is revealed throughout the tile and on its clay-colored underside. A porcelain tile, because of the intensity of heat during firing and the quality of its composition, is denser than ceramic, less porous and doesn't absorb moisture or stains as easily as ceramic. A porcelain tile's color continues through to its underside.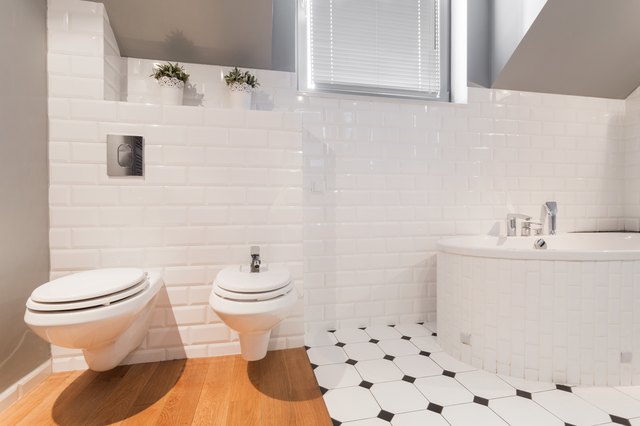 credit:
KatarzynaBialasiewicz/iStock/Getty Images
Slip resistance is one of the hallmarks of unglazed porcelain tiles, making them ideal for high-traffic living areas and more suitable than ceramic tile when installing them outside. Glazing a porcelain tile adds another surface, which could include another color and may invalidate the continuous color. Maintenance is easier as the glazing reduces porosity and is a defense against cracking, but glazed porcelain tiles are more slippery.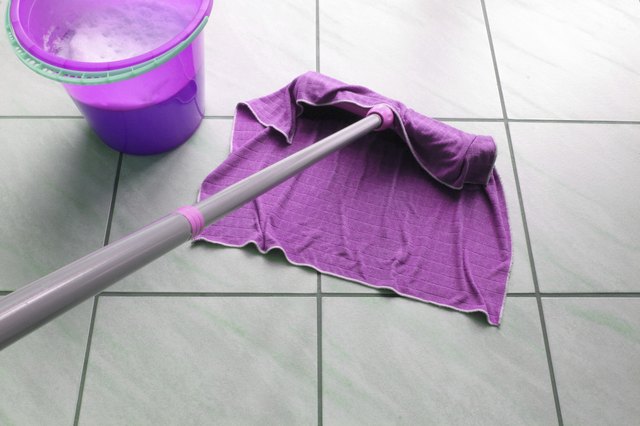 credit:
foto-ruhrgebiet/iStock/Getty Images
Both ceramic and porcelain tiles are easy to maintain. Warm water and a mop are all that are needed. Tile cleaning solutions may result in a more slippery surface when used. Grout lines also get dirty, but professional cleaning will bring the grout back to its original color. A solution to that problem is to lay the tiles with the tiniest possible grout spaces.
Porcelain Design Variations
credit:
NelleG/iStock/Getty Images
Color and texture variations drive buyers toward porcelain tiles. Some are designed to look like wood or natural stone floors, while maintaining the benefits of a tile floor. Stains and scratching can mar wood or stone floors, but porcelain is resistant to such damage. Slate and marble replications are additional looks possible with porcelain tile.
credit:
SylvieBouchard/iStock/Getty Images
The Porcelain Enamel Institute rates the hardness of both ceramic and porcelain tiles. The PEI usually rates ceramic tiles in the 0 to 3 range, with 5 being the toughest. Porcelain rates 4 or 5. Consequently, ceramic tiles cost less than porcelain, depending on their PEI ratings. Ceramic tiles can be installed by nonprofessionals but easily chip and crack. Porcelain must be installed by a professional due to its density and difficulty in cutting.