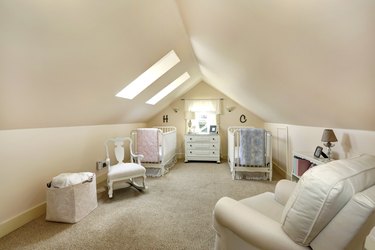 The daylight skylights provide is usually valuable, but there are times skylights are a nuisance. Maybe a skylight creates too much heat inside, lets in too much cold air in the winter, or keeps a baby from napping. Certain situations can arise that may make you want to have the flexibility to cover the skylight without having to remove it completely.
Sloping Shades and Blinds
Average vertical shades and blinds can't be installed at a slope or pitch where skylights are usually found. Many shade and blind manufacturers solved this problem by specifically designing their products to work on the slant. You can find them manual with extended hand cranks or powered with hard-wiring or batteries connected to electronic controls, making them easier to operate. Shades aren't as heavy as blinds for installation and come in a range of darkness levels that may offer more choices than blinds. Venetian blinds are available with slat maneuverability by using extended control wands or remote controls.
Install Curtains at the Ceiling
You can express creativity and individuality by hanging curtains, fabric or bamboo shades. If the skylight is in a dormer, try using the vertical architecture to your advantage by hanging in front of the skylight. Drape sheer curtains inside cords or a rod for a billowy and soft effect for a bedroom. Pin colorful banners or team flags along the slant of the ceiling if it's a teen's room or family room. Use this unique feature in your home as a decorative element.
Applying Adhesive Films to the Skylight
There are darkened plastic and reflective films that can be applied to windows to reduce the glare and UV rays, but make sure to talk to your skylight manufacturer before installing it. If your skylight is plastic or polycarbonate, the film adhesive may react negatively to the plastic causing it to break down sooner than normal. If it's glass, there is concern about heating up the glass and causing it to break. Ask your skylight manufacturer if it affects any skylight warranties or if they have options they can offer to help cover your skylight with their own films.
Insert Insulated Infill Panels into the Opening
If you want to cover your skylights for an extended time, such as over the winter, think about inserting insulation panels into the framed opening at the interior of the skylight. Energy.gov suggests, "An insulating window panel or pop-in shutter typically consists of a core of rigid foam board insulation." It's pretty simple to make your own or kits are available, as well. The panels will completely block out the light, as well add insulation value during cold months.
---
Alexander Callos began writing in 2005 for "The Lantern" at The Ohio State University and has written for various websites, including Bleacher Report, Top Ten Real Estate Deals and Columbus Sports. He has published articles for CBS Sports, SI.com and other websites. He graduated in 2007 from The Ohio State University with a bachelor's degree in public affairs journalism.