How to Build a Tree House. Every kid loves a tree house and wants one in the backyard. Even families without a tree large enough to accommodate a tree house can purchase free standing tree house kits. Whether in a tree, part of a play structure or free standing, a tree house is a relatively simple family project.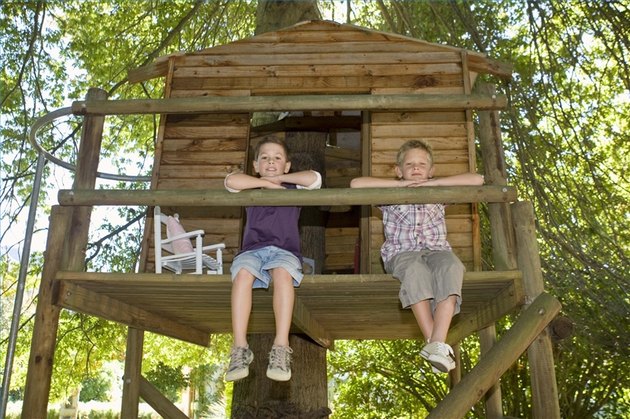 Step 1
Choose an appropriate tree or area for your free standing tree house. The sight should be positioned well away from power lines. Trim away branches that may be in the way of your platform or sides.
Step 2
Decide on a design. There are many websites that offer tree house plans, or go to your local home supply store for a kit.
Step 3
Purchase all supplies needed at one time if possible. This prevents not having enough hardware, proper tools and nuts and bolts to complete the job.
Step 4
Secure the foundation. If you are using just the base of the tree, make sure the tree you choose is thick and sturdy. For a free standing house, you can either pour footings, or make a four-sided base according to the plans you have.
Step 5
Construct the floor of the tree house by securing the boards side by side according to kit or measured drawing direction. Make sure there are no visible gaps between boards.
Step 6
Add the side rails. Spaces between rails should be close enough together that a child's head will not fit through.
Step 7
When attaching play equipment, such as a slide, to the structure, make sure all pieces are securely bolted to the tree house.