Hot tubs are fabulous places to relax while your muscles revel in a continuous water massage. Whether you enjoy socializing in your tub or lounging after a day's work, a hot tub offers seclusion from the rest of the world. In-ground hot tubs are stylish and durable but installation is expensive and requires some knowledge of construction methods.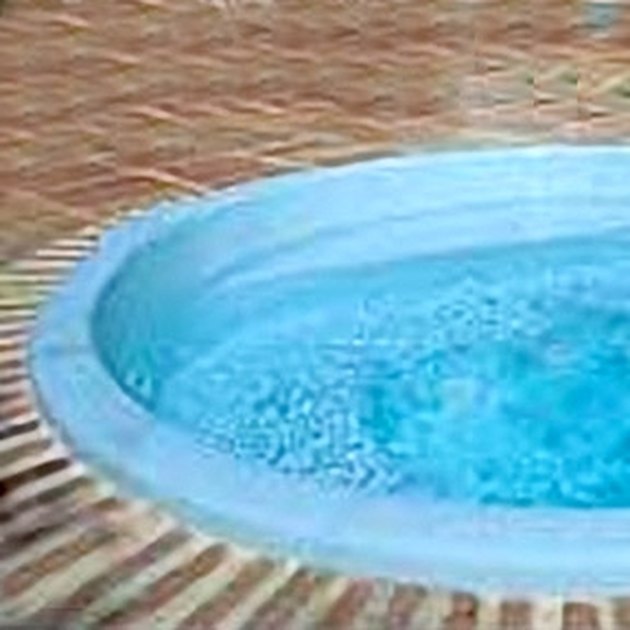 Step 1
Locate the area where you want to install your in-ground hot tub. Determine the space by the size of your tub and the installation method you choose. Provisions for access to the pump are imperative when installing an in-ground tub.
Step 2
Pour a concrete pit at least 30-inches larger than the hot tub to allow access to the motor and pump. If you choose this method, you will place the tub in the pit and build a removable deck around the perimeter.
Step 3
Trench in electrical wiring and plumbing to your in ground tub. Make provisions before you pour the pit for the installation of the wiring and plumbing. This necessitates running conduit to install wiring through the concrete wall and the placement of water access and drainage pipes. You can skip the water source if you plan to fill your pool with a hose but you will still need a drain and a sump pump to remove the water.
Step 4
Set the tub; connect the wiring and plumbing and install the decking around the perimeter. Make sure you purchase a self-riming tub and not an out-of-ground tub.
Step 5
Choose an alternate method of installing an in-ground tub by building a separate pump house away from the hot tub to house the electrical components and pump. This is more common when the homeowner wants an in-ground tub surrounded by concrete or a tub that accesses a swimming pool. This is an expensive method of installation.
Step 6
Form the tub for the second choice from concrete or gunite and seal or lay tile on the surface. Install the pipes for the jets in the main pour and make provisions for a drain. All of the plumbing and wiring will run to a separate pump house for maintenance. The biggest problem with this system is that should a defect occur in the tubing or wiring, you may have to tear out a portion of the concrete to reach the problem.
Step 7
Cover your hot tub with a specially designed cover to protect the tub from debris and to protect children or animals from falling in.