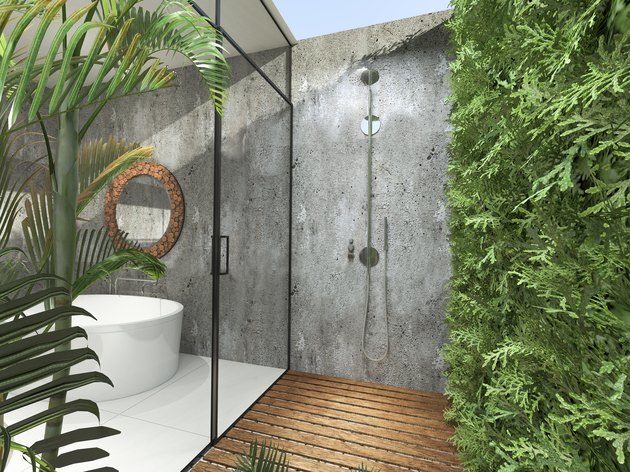 A garden tub isn't necessarily in the tulip patch, although it can be. It is a large, luxurious free-standing bathtub that is either situated outside in a garden or else is located in an indoor room that has been given the look or feel of a garden. The only purpose of a garden tub is to allow sumptuous relaxing, so don't expect showers or water jets.
History of Garden Tubs
If the idea of a garden tub makes you think of Downton Abbey, you aren't too far from the truth. Garden tubs came into existence in the early 18th century, when they were only owned by those "to the manor born." Wealthy aristocrats and courtiers had them placed in their vast, immaculately manicured gardens, cared for by numerous servants. They originated in Europe, and were seen frequently in French villas.

But today's garden tubs -- often called "soaker tubs" -- are just as likely located in master bathrooms, and simulate a garden look with plants and natural materials. They are often situated near enormous windows that allow natural light into the room. Palmy plants and tropical flowers are often included in the decor to make the area resemble an outdoor landscape. Soaker tubs are the hot new "must-have" accessory to complete a bathroom remodel.
Range of Garden Tubs
You won't find one type of garden tub in commerce, but a wide variety of products in many makes, models and sizes. The common denominator for all of them is that they are oversized, much larger than ordinary bathtubs. Typically, a modern garden tub is 42 inches wide, 60 inches long, and 24 inches deep, but they can be much larger and deeper. Since they are meant to offer -- and to make a show of -- luxury and comfort, garden tubs often have wide edges to hold bath accoutrements, plants, champagne flutes or scented candles.
Many garden tubs are either set above or below floor level, with broad steps to permit access. Although water jets are traditionally excluded from garden tubs, some modern soaking tubs have added them back in with the idea that they add to the relaxation and health benefits.
Before you add "garden tub" to your bath specifications, consider the space you have, and consider your budget. The comfort of this free-standing, oversize tub won't fit into a normal bathroom. You'll need an enormous bathroom, given the fact that the oval tub cannot be set against a wall and won't have a shower. Don't place the order until you've spent some time with a tape measure.
And if you have to ask the cost, you probably don't want a garden tub. The price for the tub alone, without installation and plumbing, can range from $1,000 to $5,000, as of 2017.
---
From Alaska to California, from France's Basque Country to Mexico's Pacific Coast, Teo Spengler has dug the soil, planted seeds and helped trees, flowers and veggies thrive. A professional writer and consummate gardener, Spengler has written about home and garden for Gardening Know How, San Francisco Chronicle, Gardening Guide and Go Banking Rates. She earned a BA from U.C. Santa Cruz, a law degree from U.C. Berkeley's Boalt Hall, and an MA and MFA from San Francisco State. She currently divides her life between San Francisco and southwestern France.
View Work