As tubs get older, they lose their shine and finish. When this happens, homeowners have basically two options. One is to replace the entire bathtub and the other is to reglaze. Reglazing for bathtubs comes in kits that have everything you need to make your tub look almost new. There are pros and cons to reglazing your bathtub. Decide if this is a job that you want to do yourself.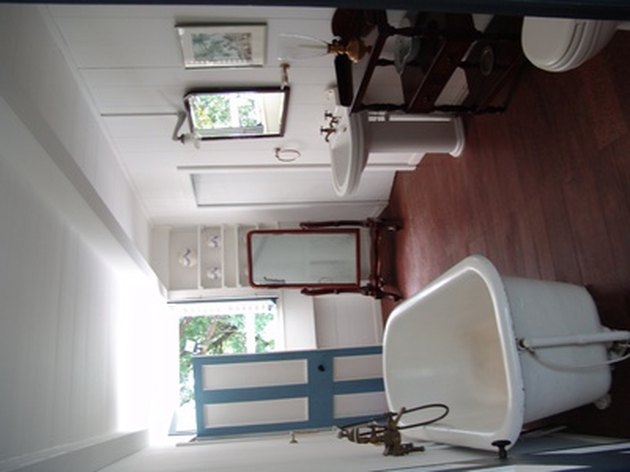 Plan to allow plenty of time when reglazing your bathtub, as it is very time-consuming. It is not necessarily time-consuming in the amount of time it takes to actually do the work, but the tub needs to cure for an entire week before anyone can use it. It is definitely not a quick-fix repair if you want something done about your bathtub today.
Save a lot of money when you choose to reglaze your bathtub. Reglazing costs a lot less than removing and replacing your old bathtub. However, if you do the glazing job improperly, it can cost you the price of another kit and the time it takes to re-do everything. Removing and replacing your bathtub can cost about $3,000. Compare that to the coast of a kit which runs around $30 or even a professional glazing job at around $300.
Keep the character of the old tub when you reglaze. Many new tubs are not as big or as stylish as older cast iron tubs. Reglaze your bathtub if you want to brighten the room but still keep the décor about the same. If you do want to change up the décor a little bit, glazing kits come in different colors or you can have them tinted to a color of your choice.
Hire a professional to reglaze your bathtub. This is more expensive than doing it yourself, but the finish is often better looking and adheres better than the glaze in the kits. Hiring a professional may cost you more money than doing it yourself, but it saves you the headache of doing it yourself and it is still less expensive than replacing your old tub with something new. While reglazing the tub yourself will make it look better than it did before, hiring a professional will make your tub look like brand new since professionals use different products and know the techniques to make the reglazed finish look perfect. The finish a professional puts on lasts much longer than the glaze in the kit.