Things You'll Need
Electric grinder

Granite-rated cutting blade

Masking tape

Pen or pencil

Safety glasses

Dust mask or respirator

Wet sponge

Shop vacuum (optional)
Tip
If your job involves making long, straight cuts, consider renting a specialty granite cutting saw or having a professional make the cut. Cutting perfectly straight lines with a grinder is challenging.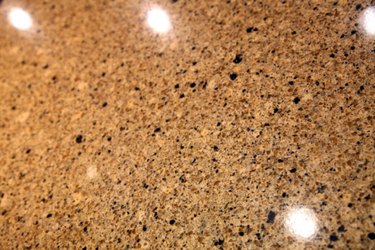 Granite is a hard stone used in construction, which means cutting it can be a chore. But with patience, care and practice, granite can be cut with a properly equipped electric hand grinder. Controlling the amount of dust created by cutting granite is a key consideration, as well as managing the heat that is generated by the grinder blade during cutting. It helps to have an assistant. Above all, ensuring that you can properly control your grinder will be of paramount importance, since granite is expensive and an inaccurate cut is very difficult to repair.
Step 1
Evaluate your grinder. Most electric grinders sold at home improvement centers will adequately cut granite, but professionals usually prefer a machine that operates at 1,100 rpm. For most jobs, you will need a grinder that can accommodate at least a 4.5-inch grinding wheel.
Step 2
Purchase a specialty cutting blade. Because of its hardness, granite can't be cut with just any grinder blade. Special diamond-impregnated blades are required, but they are available at home improvement centers or cabinet and kitchen centers. Granite is much harder than marble or ceramic products, so don't assume that a blade that advertises it can cut tile will do the job.
Step 3
Choose an outdoor spot to cut the granite, if possible. Cutting granite with a grinder is a very dusty job, and granite dust can stay in the air for long periods of time. If you must cut indoors, have a helper run the nozzle of a shop vacuum behind the cutting blade.
Step 4
Mark the granite for cutting. Place a strip of masking tape along the area to be cut. Draw your pen or pencil line along the masking tape. This will allow you to see the line better, and also will help prevent fine chipping of the granite.
Step 5
Turn on the grinder and begin making small, shallow cuts. Wear safety glasses and either a dusk mask or respirator while cutting. Make sure you have operated the grinder previously to ensure you are comfortable in controlling it while cutting. A mistaken cut in granite is very difficult to repair. Grip the grinder firmly and do not attempt to cut through the entire piece of granite at once. Cut only partially through the granite so you do not overheat the blade or put too much tension on the machine.
Step 6
Stop periodically to cool the cutting blade. Turn off the grinder and take a wet sponge. Squeeze water onto the cutting blade. Use the damp sponge to clean the cutting area on the granite.
Step 7
Restart the cutting process and continue until you make a full-depth cut through the entire piece. If you are cutting the granite in a way that the cut piece is not supported, find a helper who can hold the piece and stop it from falling. Don't let granite fall to the ground. It will break.
---
Dustin Hill is the former owner and publisher of a Midwest business journal and has been reporting on small business since 1992. He has a Bachelor of Science in journalism from the University of Kansas and currently works as a government and business reporter for a daily newspaper.