When the economy is tough and house prices are down it can force homeowners to stay in their homes longer. Updating an old bathroom can make staying more bearable, but who has the money for a complete bathroom overhaul? Instead, why not give your bathroom an update? This can be done on even the smallest of budgets, and here is how. Bear in mind that not all of these updates need to be done at once or even at all; do what you can slowly and you will see your bathroom transformed on a budget.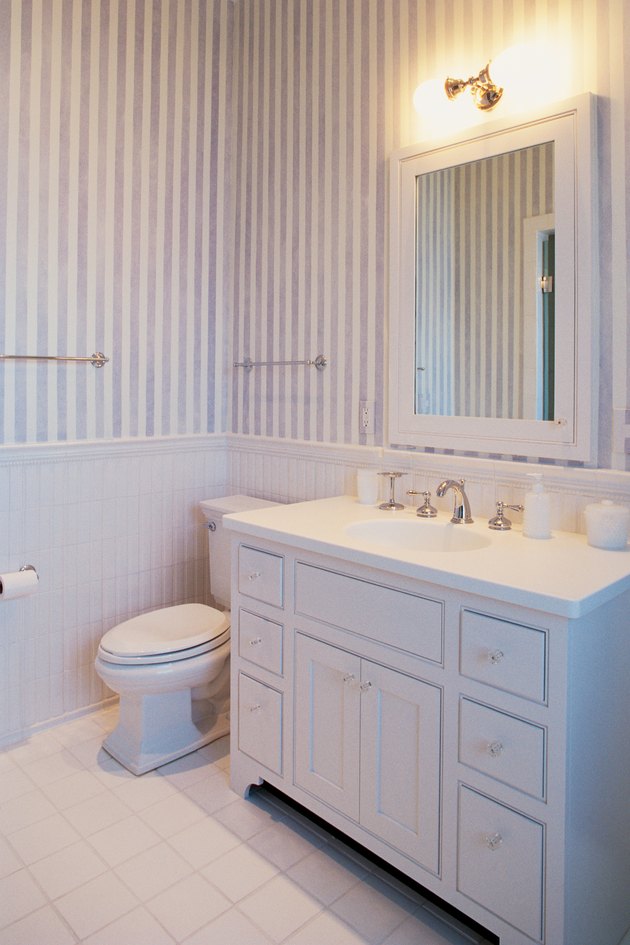 Step 1
Paint the walls. Paint is always one of the easiest and cheapest ways to transform a room, and the bathroom is no exception. A fresh coat of semi-gloss paint can instantly brighten and refresh an old bathroom. You can embellish the new look further with a wallpaper border or stenciled details.
Step 2
Replace the flooring with vinyl. Old carpet or worn resilient flooring makes a bathroom ugly and unpleasant (if not smelly). Both of these floors are easily replaced with sheet vinyl. You can also use vinyl tiles, but their seams are prone to water intrusion and dirt buildup. If the old flooring is tile that's in good shape, it might need only a good scrubbing of the grout (with oxygen bleach or other tough cleaner) to restore a fresh look.
Step 3
Replace the old light fixture. Bathroom fixtures are inexpensive and easy to install. They also tend not to age well, so putting in a new one will likely make a big difference.
Step 4
If your bathroom vanity is too ugly to look at, a paint job and some new hardware should help bring it up to date. Use a high-gloss paint or even a lacquer for a tough, water-resistant finish. New drawer pulls, door handles, and matching hinges complete the renewal.
Step 5
Get a new shower curtain and towels. If nothing else you can make your bathroom feel new with nothing more than fabric. This is an area where you can go bold with color or pattern. You might find this is all your bathroom really needs to make you fall it love with it again.