Your horse trailer can be converted to a camper, and you can even equip it with conveniences. Although your space certainly is more limited than in an RV, options might include a microwave oven, an entertainment center, a refrigerator, a sink, a bed, cabinetry and even a shower and a toilet. A cowboy shower is a box, containing the showerhead and hose that can be folded and stored in the shower pan when not in use.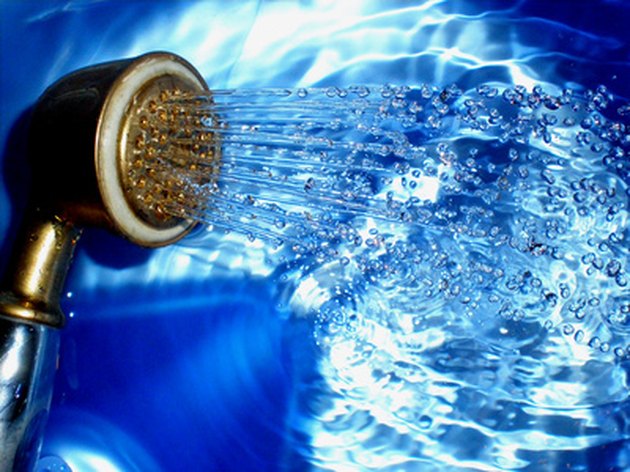 Step 1
Measure a rectangular opening for the cowboy shower installation near the top of the location you have chosen within your horse trailer. Cut away a matching hole with your sabre saw. Screw the shower to the wall with 5/8-inch self tappers. Use room temperature vulcanizing sealant to seal off the shower box against the aluminum wall. Run 3/8-inch tubing for the water line to the shower.
Step 2
Cut your lumber and nail the pieces together to build a frame in which to set your utility tub, which will serve as your shower pan. Secure the tub to the frame with L-brackets at the bottom. Cover the frame with lumber or paneling. Attach a long hose to the bottom of the utility tub for drainage beneath the trailer.
Step 3
Nail two 1-inch by 1/8-inch aluminum strips to the roof beams from which to hang the curtain. Attach a PVC frame to these strips. Screw eyelets into the corners of the PVC frame, so the frame can be hung from the aluminum strips with bungees.