Turning a pole barn into a home in Michigan is unusual, but it can be done. The pole barn structure, which uses poles or beams to support the walls and roof, would have to be adapted to follow building codes for occupied dwellings. The poles can be wood or metal, while the walls typically are metal. Permits will be needed and inspections will be required to make a pole barn safe for use as a home. Occupied dwellings must have running water and electrical service.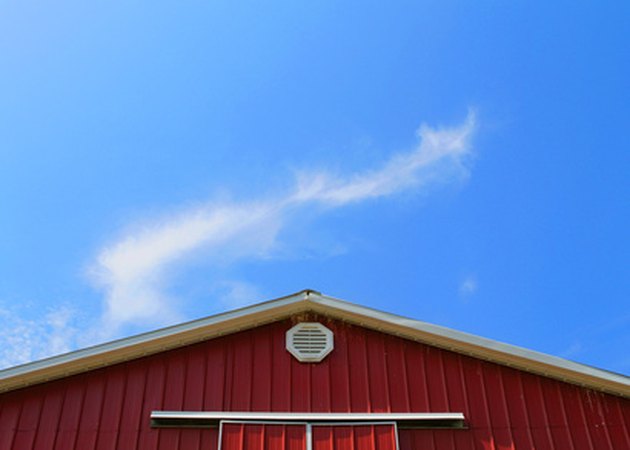 Step 1
Before you begin turning your pole barn into a home, check with local government officials in charge of issuing building permits. Find out if the existing pole barn can be adapted for use as a house. Pole barns used as storage facilities or out buildings are not required to have footings like those required in residential buildings.
Step 2
If you are planning a new-build pole barn house, make sure you know the building code requirements for footings. In Michigan and other states where the ground freezes solid in winter, residential and commercial buildings are required to have footings that go below the frost line.
Step 3
Turning a pole-barn structure into a home means the owner and builder will have to comply with all electrical, mechanical and plumbing codes in place in Michigan. Mechanical refers to heating and cooling. Occupied dwellings or homes are required to have a water source, either from the municipality or a well, and a waste-water source, either from a municipal source or septic field. The wall insulation and drywall will have to be upgraded to residential grade. Electrical installation must be done by a licensed electrician.
Step 4
Make sure your builder or architect is an expert in Michigan's residential building codes. He should be familiar with these codes and what compliance entails. Make sure the builder and architect are licensed in Michigan to ensure your pole barn home building will pass inspection in these areas. If not, an occupancy permit will not be granted.
Step 5
Local authorities often will have the last word on the approval of your pole-barn-style home. One of those is Construction Code Authority, CCA, which serves Lapeer and St. Clair counties in Michigan's Thumb Region. Much of CCA's advice is basic to Michigan and is helpful when getting started on your new pole barn home. CCA advises that if you are in doubt about what to do, hire a licensed contractor. You will have to pay planning, site review, site staking and driveway fees up front. The homeowner or builder will be required to produce a floor plan, elevation and building height, cross section, foundation and footing detail, truss print for the roof, engineering detail, fireplace information if applicable, and energy calculations to ensure compliance with the State Energy Code.