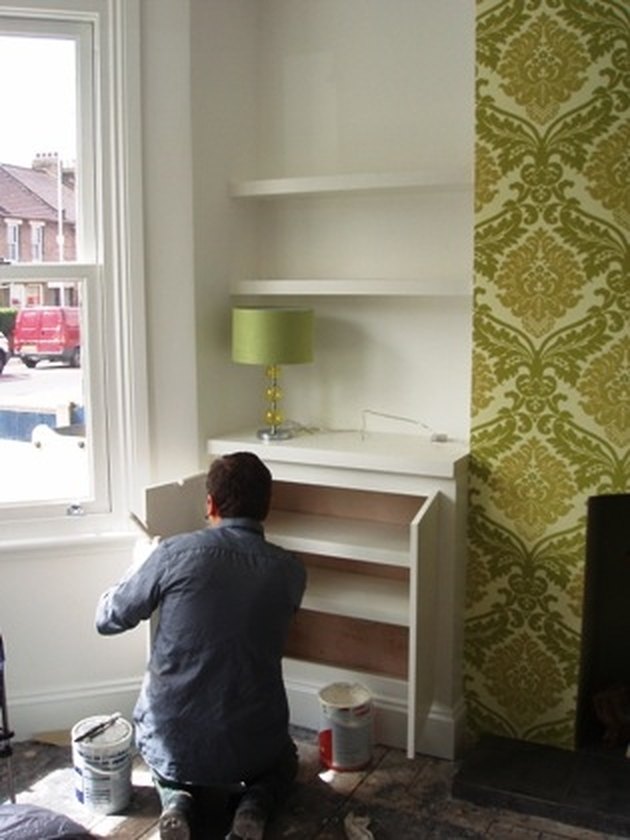 The ordinary way to deal with alcoves on either side of a fireplace is to fill them with shelves or fit a wardrobe or cabinet into the space. If you already have enough storage, this design gives you a more original option, creating an unusual display feature for striking ceramics or sculpture. It can even be lit for maximum effect. If you like the technique, but don't have a fireplace, you can build the unit almost anywhere you like, as long as you have fixing points on the floor, ceiling and one side of any opening.
Step 1
Measure the height and width of the alcove and cut a sheet of MDF exactly to these measurements.
Mark out a square on the MDF panel for the opening and cut out with the jigsaw. Drill a hole inside the area using a 10mm wood bit to start off the jigsaw. An opening about 12 by 12 inches will make a practical display area but you can vary the size, and number of openings, depending on the size of the alcove.
Cut two 2 by 1 inch timber battens to match the depth of the alcove and another two to match the width. Attach the long battens to either side of the alcove and the short ones to the top and bottom. Drill pilot holes in the wall with the 3mm wood bit.
Step 2
Then drill holes into the wall with the 6mm masonry bit, put in the wall plugs and screw the battens to the wall. You will not need plugs for the bottom batten if the floor is wood.
Make sure all the battens are fixed exactly the same distance from the back of the alcove so that the Unit is straight. Check that the large MDF panel rests snugly against the battens in the alcove.
Step 3
Measure from the front of the battens to the back of the alcove and use this measurement, and the size of the cut opening, to make a square box from MDF with just four sides and no top or bottom. Joint the sides with glue and screws.
Cut lengths of a 1 by 1 inch timber batten to match the sides of the cut opening. Use these battens to attach the box to the front panel with glue and screws. Allow the glue to dry. The unit is now ready to be fixed into place. Drill some pilot holes through the main panel before securing it to the battens on the walls. ceiling and floor with glue and screws. The unit can now be painted.