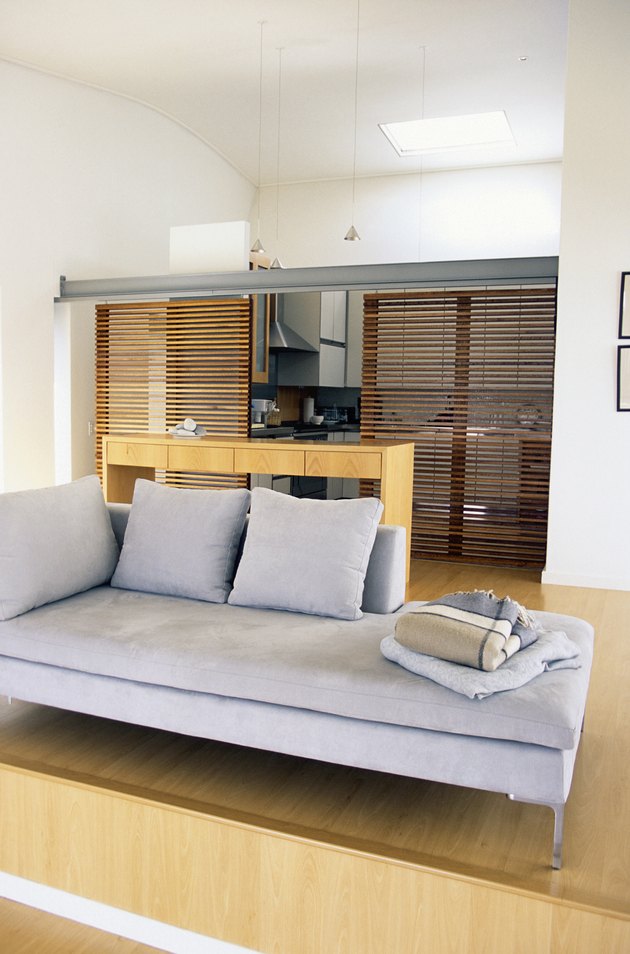 There are many styles of couches and many methods of construction. A platform couch is one of the simplest possibilities, consisting of essentially just a cushion on a platform. This has two advantages for you. First, it has a pleasant minimalist look that easily fits in with more modern or contemporary decor. Second, it is a style you can duplicate to make your own custom couch. There are different ways to approach the project, but any platform couch has the same necessary components.
Platform
A platform couch needs, of course, a platform. This can be a simple wooden frame with either a solid piece of wood over the top, such as a piece of plywood, or slats to support the cushion. You also can be inventive with the platform. For instance, use a bed frame if it's an appropriate size. You may find wooden pallets used for shipping to be an acceptable alternative as well. Keep the height of the platform in mind when you build. A comfortable seat for most people is around 16 or 17 inches off the ground.
Cushion
A platform couch must have a cushion for the seat. Other parts are optional; a backrest is comfortable, but not essential if the couch is intended to be placed against a wall. You can use pillows instead of padding for a back. You may or may not want armrests as well. There are several approaches you can take, but cutting squares or rectangles of soft foam to fit the couch is one of the simpler approaches. Keep in mind the cushion adds to the height of the couch, although it will compress during sitting. If the foam is thin, the platform needs to be a little higher than if you use thick foam.
Upholstery
Upholstering furniture can be a little difficult. Consider each of your cushions to be a pillow to make things easier. Rather than upholstering the entire couch, make a casing for each cushion from upholstery fabric or other sturdy material. If you have no experience with sewing, though, upholstering may be easier for you, since it requires you to cut pieces of fabric that fit over the foam pieces, and staple them to the couch structure rather than sew. You also can use a large, plain piece of fabric, then tuck it into the cushions. This approach is more like using a sofa cover, and is simple but less tidy than the other approaches.
Other Features
Although a platform couch only requires a platform for the base as structure, you may want to attach a board to make the back sturdy, or boards to the sides for armrests. You can make these match the platform, or upholster over them to make them seem like part of the cushion. Although it diminishes the minimalist look, you can add legs to the bottom for height or use the underneath for storage, or add casters, which makes it easy to move the couch around if desired.
---
Rochelle Leggett has bachelor's degrees in biopsychology and English and a Master of Library and Information Science. She has been writing for over 15 years and was first published in 2000. She has been employed in academic settings as a librarian and an archivist.