A kitchen cabinet update doesn't have to cost thousands. Sometimes small details like cabinet pulls and even hinges can make a big difference in the overall look of your room. Removing old overlay hinges and replacing them with hidden hinges can give your kitchen a sleeker, more modern look. Using hinges that are not only hidden, but also self closing, improves function and style. Note that a self-closing hinge does not close fully open doors, but holds doors closed.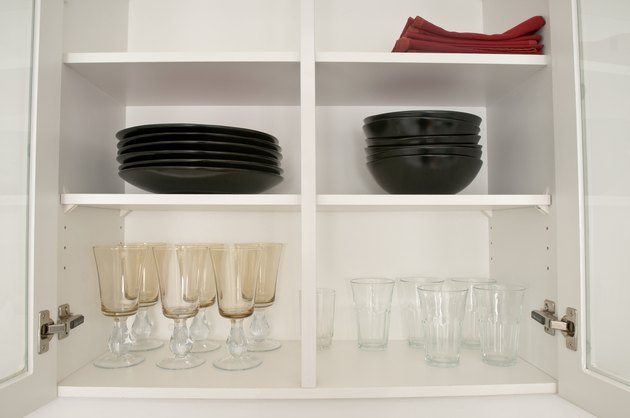 credit:
Jupiterimages/Photos.com/Getty Images
Step 1
Measure 4 inches down from the top edge and 4 inches up from the bottom edge on the hinge side of the back of each door. Mark a spot 1/2 inch over from the back edge at each point. This is the center point for the door side of your hinge.
Step 2
Bore out the holes on the doors where marked with a 35 mm Forstner bit on a drill press.
Step 3
Measure any overlay on the cabinet door. "Overlay" refers to the amount the cabinet door extends over the frame. According to "Fine Homebuilding," cabinet doors may be "inset," meaning wholly inside the frame of the cabinet; overlay, meaning doors extend 3/4 inch or more over the frame and the frame usually does not show at all when doors are closed; or half-overlay, meaning there is an overlap of 3/8 inch to 1/2 inch with the door sitting on top of the visible frame.
Step 4
Subtract any overlay from 4 inches. Mark that measurement down from the top and up from the bottom on the inside edge of your cabinet frame. This is the center point for the frame side of the hinge.
Step 5
Hold the frame side of the hinge up to the center point, with the door side of the hinge open and extending straight out beyond the frame. Insert included screws through the holes in the frame side of the hinge and install with a Phillips head screwdriver.
Step 6
Insert the inverted portion of the door side of the hinge, called the cup, into the hole on the door.
Step 7
Insert the two Phillips head screws into the holes on either side of the cup and secure the hinge to the door with a Phillips head screwdriver.
Step 8
Close the door once both top and bottom hinges are installed. Once it gets near to closed, the self-closing hinge should snap shut and hold firmly to the frame. Step back and make sure it is level and closed tightly.
Step 9
Make any adjustments necessary by turning the screws on the cabinet frame side of the hinge. The top and bottom screws allow the door to be adjusted slightly up and down, while the back screw moves the door in and out, and the one in the center moves the door left and right.