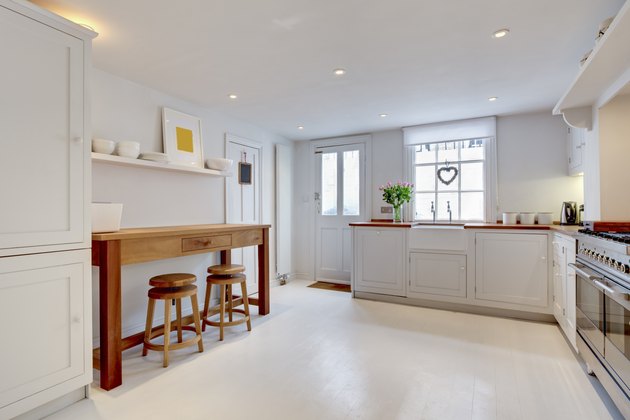 The breakfast bar is an affordable option for adding convenience. Take some measurements, draw a design, choose some materials, and build it in one afternoon. A breakfast bar is typically considered a semi-permanent installation when added to an existing wall. Consult local building codes to ensure it complies.
Getting Clearance
Check for clearance before designing, planning or building a breakfast bar. The barren wall might seem a likely location, but if a door, walkway, work area, appliance, cabinet or window needs clearance, it could be a problem.
Height and Stools
Eating bar height is typically about 6 inches higher than your countertop -- typically 36 inches -- making your bar 42 inches tall -- but 36 inches is doable. The two standard measurements are for accommodating stools, which typically come in two standard heights -- one for 36-inch, and one for 42-inch eating bars.
Depth Perception
Bar width is variable -- 12 inches will suffice if that's all you've got -- but 15 to 18 inches is preferable, especially if appliances such as a toaster are added to the bar. Once you've decided on the width, check to see if you've got sufficient room to walk by the bar. Allow 36 inches for a passageway, but 42 inches is better. You could get by with less space depending on where the bar is situated, but consideration should be given to the eventual need to move appliances and furniture, and allowing passage for a wheelchair -- especially if the bar is opposite a fixed counter, wall or other object that can't be easily moved.
Choose a Top
An economical top consists of plywood or particleboard with a laminated top, just like a countertop. Laminated particleboard or MDL is another option, it's pre-laminated, cut it any size you need, and add a strip of hardwood to cover the edges. Another option is a hardwood panel. This solid wood top is more exclusive, but worth it. Any cabinet shop can make one for you. Finish it with stain and acrylic urethane or lacquer.
Give it Your Support
Options for supports include two-by-fours about 12-16-inches long, with 45-degree angles on both ends. One angled end screws under the top, the other end screws to wall studs. Two or three angled studs should support a 48-to-72-inch top. Standard dimensional lumber isn't visually pleasing, but can be painted or covered with wood veneers or another type of laminate. Alternatively, used pieces of hardwood for support.
Jamb Session
One of the most solid options for support include hardwood plywood jambs similar to cabinets. If your top is 14-inches wide and 42 inches tall, cut two two pieces of 3/4-inch hardwood plywood to 13-by-41 1/4 inches. Stand them upright under the top at both ends, and screw 3/4-by-3/4-by-13-inch pine cleats at the top and bottom. Use the cleats to attach the panels to the top, and to the floor. If you don't want to screw it to the floor, attach some plywood feet, about 6-inches wide, to the bottoms of the jambs.
Support Option
Corbel braces are another option for support. Corbel braces are curved or angled supports that can be made out of 3/4-inch plywood -- you see them all the time on countertop overhangs. The back and top are 90 degrees to fit under the top and along the wall. The front has a slow curve or simple angle. A typical plywood corbel brace for an eating bar might measure about 15-by-18 inches.
Keep a Ledger
Start by drawing a level line across the wall 3/4-inch below the desired height to allow for the thickness of the countertop. Use a stud finder to locate the studs, and then screw a ledger or board flush with the line. Use a single two-by-four stud for a basic ledger, or double-up two pieces of 3/4-inch hardwood for aesthetics, finish it beforehand if desired. The ledger acts as a shelf to support the back of the bar.
Finish It
Screw the top to the supports from the bottom side, using pine screw blocks or cleats. Dress up the breakfast bar by adding a 3/4-by-4-inch-wide hardwood backsplash to the wall.
---
Specializing in hardwood furniture, trim carpentry, cabinets, home improvement and architectural millwork, Wade Shaddy has worked in homebuilding since 1972. Shaddy has also worked as a newspaper reporter and writer, and as a contributing writer for Bicycling Magazine. Shaddy began publishing in various magazines in 1992, and published a novel, "Dark Canyon," in 2008.