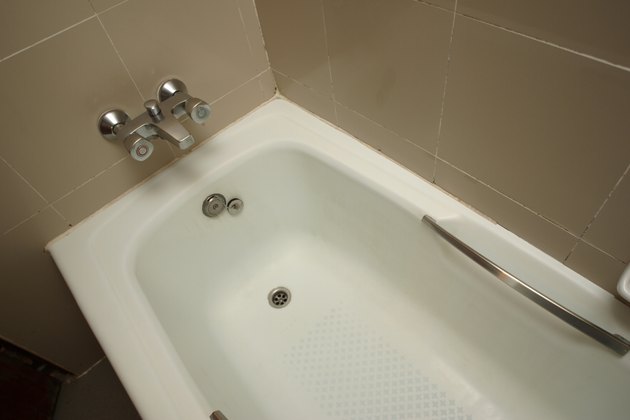 A bath wall kit is otherwise known as a bath surround or a bath liner. They are one-piece plastic or acrylic units that slide over the top of an existing bathtub or shower to give it a like-new appearance. The kits are available at many home and hardware stores for a do-it-yourself project, and at commercial companies that sell and install the kit.
Over Tile
Some bathtub wall kits are designed to be put directly over ceramic wall tiles, according to Jennifer Renglich, marketing director for Bath Fitter®, a national chain for bathroom remodeling products. Before any work is done, a representative works with you to determine your specific needs and the best way to install the surround. A typical installation by a professional company will be finished in a single work day.
Necessary Skills
Do-it-yourself kits require at least a basic understanding of carpentry and home wall construction, in addition to enough plumbing skills to remove and reattach all faucets, handles and drains. Kits that nail directly to the studs require that the drywall and any tile in the area of the studs be removed. This involves prying loose the tile or cutting both it and the underlying drywall.
Buying a Kit
Bathtub surrounds are installed for a variety of reasons, including updating the look of the bathroom, adding the functionality of a shower where there is none, and ease of cleaning. Some older persons who have difficulty getting into and out of a bath convert their tub into a shower only. The surrounds come in many different colors and match a wide range of decor.
Pro Versus Do-It-Yourself
A major difference between a professional installation and a do-it-yourself kit is that the professional liner is usually installed as a one piece kit with no seams. It is custom-made for your bathroom shape and size. A store purchased kit is more generic in shape and size, and comes with panels that are snapped and caulked together.
---
Jack Burton started writing professionally in 1980 with articles in "Word from Jerusalem," "ICEJ Daily News" and Tagalong Garden News. He has managed radio stations, TV studios and newspapers, and was the chief fundraiser for Taltree Arboretum. Burton holds a B.S. in broadcasting from John Brown University. He is a 26-year veteran of the U.S. Navy/Navy Reserves and the Navy Seabees.