Things You'll Need
Clear, vinyl stair protectors

Carpet tacks

Hammer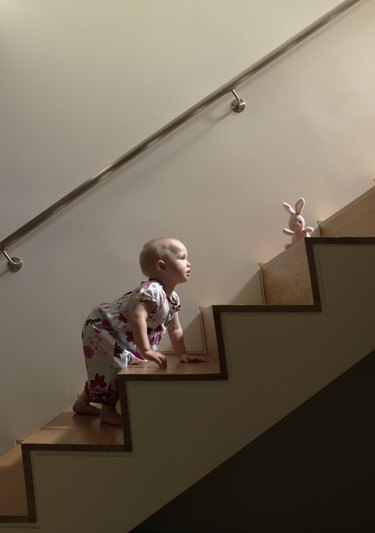 Covering your stairs in carpeting can provide a softer and less noisy surface for you to walk up and down on. However, carpeted stairs can quickly turn slippery and pose a serious safety hazard for all who walk on the staircase. For some people, carpeted stairs are more dangerous and slippery than hardwood stairs. Fortunately, you can add clear, vinyl stair protectors that will prevent the carpet from wearing out prematurely while reducing the slippery nature of the stairs.
Step 1
Open the package and lay the stair protectors out flat. If possible, read and follow the directions included with the stair protectors for best results.
Step 2
Start at the top step and place a stair protector on the step. The edge of the protector will wrap over the edge of the step and attach to the area under the contour of the step.
Step 3
Place a carpet tack in the pre-punched holes and gently pound into the step with a hammer. Continue pounding tacks into the pre-punched holes with a hammer until the stair protector is secured to the carpeted steps.
Step 4
Continue installing the clear protectors in the same manner as before until you have attached a clear, vinyl protector on each step.
---
Amanda Flanigan began writing professionally in 2007. Flanigan has written for various publications, including WV Living and American Craft Council, and has published several eBooks on craft and garden-related subjects. Flanigan completed two writing courses at Pierpont Community and Technical College.