Things You'll Need
Tape measure

Ladder

Foam insulation boards

Straightedge

Utility knife

Foam adhesive

Paint brush

Installation tape

Clear silicone caulk

Drywall

Paint

Wood paneling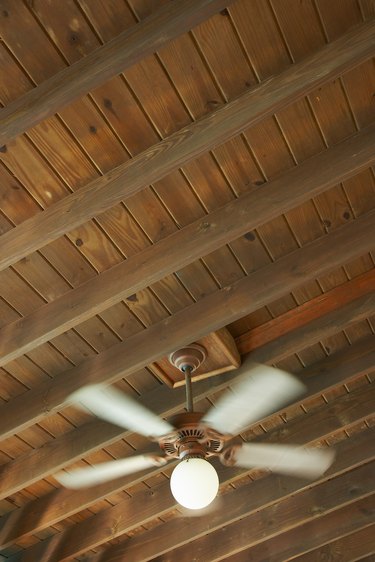 One option as part of a home remodel is to leave the roof rafters exposed by not installing a ceiling. This can give the house a more rugged, open feeling. One drawback to this is that the layer of insulation placed above the ceiling is missing, which can subject the area of the house with the exposed rafters to extreme temperature changes. You can prevent this by installing foam insulation board against the underside of the roof between the rafters.
Step 1
Measure the space between the roof rafters.
Step 2
Mark pieces of foam insulation boards with your measurements. Cut the boards along the marked lines by placing a straightedge against them and scoring the board with a utility knife. Snap the board where you scored it.
Step 3
Spread foam adhesive onto the back of the first board with a brush.
Step 4
Install the board by lifting it into place against the underside of the roof, placing one end at the roof peak and running the other end down toward the wall. Press it firmly against the roof to give the adhesive a firm grip.
Step 5
Install the rest of the foam boards on the roof, using the same process.
Step 6
Place strips of installation tape over the joints between the adjoining foam insulation boards to seal the joints.
Step 7
Run a thick bead of clear silicone caulk where the edges of the foam boards meet the roof rafters to seal the joints.
Step 8
Cover the foam insulation boards. Depending on your taste and the design of the remodel, you could do this by installing drywall over the insulation boards and painting it. If you want a more natural look, you can glue wood paneling to the foam boards.
---
Carson Barrett began writing professionally in 2009. He has been published on various websites. Barrett is currently attending Bucks County Community College, pursuing a Bachelor of Arts in sports management.