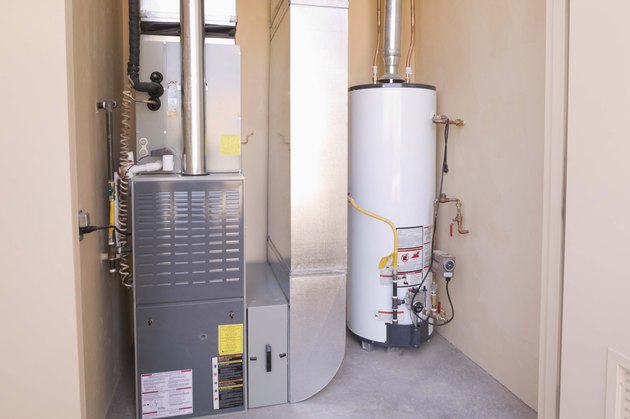 A furnace ignitor generally has a short lifespan because the elements in it get very hot then cool down repeatedly to heat the furnace to the desired temperature. Adjusting the thermostat controls the ignitor. Heating, ventilation and air conditioning (HVAC) suppliers, as well as service companies and manufacturers, sell the ignitor or the appropriate replacement part if the furnace model is no longer manufactured.
Qualified Technician
Replacing the ignitor is an easy job, but the component is very brittle and can break easily. You may choose to replace it yourself or contact a repair technician. If you're not comfortable replacing the ignitor yourself, find a qualified HVAC technician or service company to do the job. A general contractor won't have the extensive training or experience of a technician that specializes in HVAC systems.
Ignitor Cost
Check with the furnace manufacturer for the recommended part. Generally, furnaces are built to last many years, so the original ignitor part should be available for purchase. If this isn't the case, the manufacturer will recommend a replacement part. The price of this part varies by manufacturer, but purchasing it through the manufacturer, rather than a repair service company, can reduce the cost of the repair. An ignitor typically costs between $30 and $50.
Labor Cost
The labor costs involved to replace the ignitor will vary by area but generally start at $75. Including the part and service, the costs can go up to $300. When the furnace ignitor malfunctions, the furnace won't operate. Contacting an HVAC service company for an emergency repair will increase the price of ignitor replacement.
Considerations
Obtain estimates from several HVAC service companies, before having the ignitor replaced, if time permits. Verify that the service company has the manufacturer's recommended replacement ignitor in stock. Have a backup system in place, such as one or several electric space heaters, to warm your home. A backup heat source can help prevent emergency repair calls and frozen pipes in cold weather. Because the life expectancy of an ignitor is generally three to five years, purchase an extra ignitor for emergencies.
---
This article was created by a professional writer and edited by experienced copy editors, both qualified members of the Demand Media Studios community. All articles go through an editorial process that includes subject matter guidelines, plagiarism review, fact-checking, and other steps in an effort to provide reliable information.