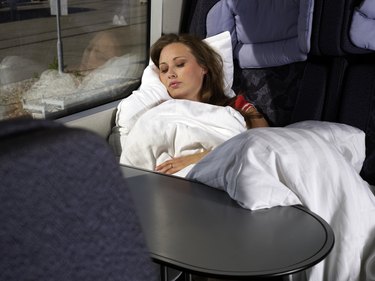 An electric blanket not working on one side may have a faulty control switch. Electric blankets have controls managing temperature settings on both sides of the blanket. This allows two people sleeping under the blanket to have their own settings.
Tests
Control switches plug into either side of the blanket. To test the switches, unplug the switch from the side of the blanket that is working properly. Plug that control switch into the side that is not working. If that side of the blanket begins heating properly, then the control switch is the issue. Most manufacturers can provide a replacement control switch. There may not be a cost if the blanket is under warranty.
Defects
A blanket that will not heat up on one side even with a new control switch is probably defective, according to one manufacturer. The only recourse in that case is to contact the manufacturer for a replacement blanket if the defective blanket is under warranty. Another option is simply to purchase another blanket.
Precautions
Electric blankets are safe when operated properly. However, follow some precautions when troubleshooting. Always turn all electrical power to the blanket off before switching the controls. That means unplugging the power adapter from the wall.
Models
Various manufacturers make electric blankets, which are usually available in three different sizes: double, queen and king. Control switches are usually similar across all brands, and it is not uncommon for a switch to fail. Before returning a blanket contact the customer service department.
Tips
Some electric blankets are washable, but control switches should be removed first. A control switch exposed to water could fail and cause one side of the blanket to stop working. Some electric blankets may have fuses and microprocessors built into the blanket, and it's possible they may be causing a problem with the blanket. However, these parts are not serviceable, and you should not troubleshoot the blanket beyond testing the controls.
---
Robert Lee has been an entrepreneur and writer with a background in starting small businesses since 1974. He has written for various websites and for several daily and community newspapers on a wide variety of topics, including business, the Internet economy and more. He studied English in college and earned a Bachelor of Arts in liberal arts from Governor's State University.