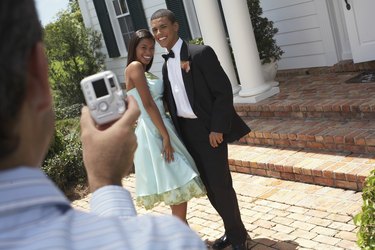 If you are looking to build a structure that will last for years, you need to follow the proper installation methods for pouring concrete. While it might seem appealing to simply pour concrete over the top of a brick porch, there are several variables that can affect the overall strength of the slab. Knowing the proper methods in advance can help you insure your new porch will last for years to come.
Stability
The stability of the slab is important to ensure that it lasts for years, giving you a porch that stands up to the test of time. The proper method for pouring a concrete slab is to compact a layer of gravel for drainage and then a layer of sand for settling. Technically, brick is not acceptable base layer for concrete because you can't ensure the drainage or the settling of the brick once you add the weight of slab on top of it.
Sand
The sand layer that normally goes underneath a concrete slab is a cushion for the slab to settle over time. All structures eventually settle into the ground beneath them, and there are various methods that have been tested over the centuries and proven to be superior to others. Without knowing what is beneath the brick, you cannot anticipate whether there is a proper cushion, which means the extra weight of the slab could sheer the brick off in sections as it sinks into the ground like a knife into butter.
Gravel
While a proper brick installation should have some form of footer and compressed gravel beneath it, without knowing whether this is the case you can't know for certain that the brick will provide a proper support layer for your new slab. Concrete needs a solid layer of compacted gravel beneath it in order to provide drainage for water. If water collects and freezes, it will expand and push the concrete upward, cracking it out.
Possibilities
If you were the individual who set the brick installation in the first place and know that you included a proper gravel and sand base, you can technically pour a slab on top of the brick. However, if you do not know what is beneath the brick the best method to ensure longevity is to completely remove the brick porch and take things down to the dirt where you will excavate and include a layer of compacted sand and gravel.
---
Tim Anderson has been freelance writing since 2007. His has been published online through GTV Magazine, Home Anatomy, TravBuddy, MMO Hub, Killer Guides and the Delegate2 group. He spent more than 15 years as a third-generation tile and stone contractor before transitioning into freelance writing.