When it comes to protecting your home and loved ones, there are several different types of locks on the market. While most of us are familiar with locking doorknobs, there are two types of locks -- the mortice deadlock and the deadbolt -- that are designed to provide a higher level of security. While they perform a similar function, the way these locks work is very different.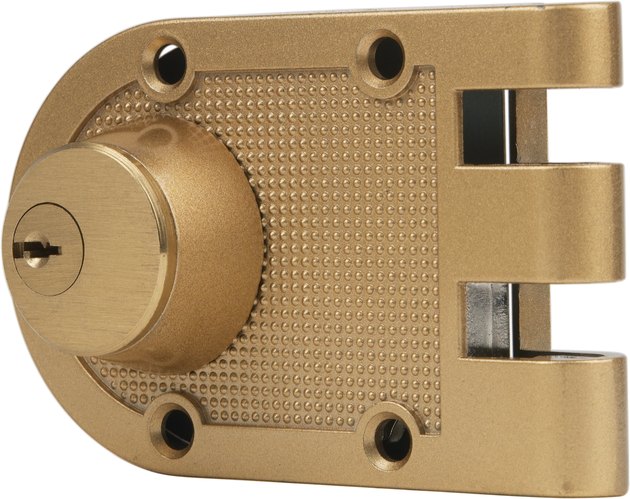 credit:
Hemera Technologies/Photos.com/Getty Images
Unlike a deadbolt, a deadlock can only be operated by a key. Once the key is turned, the deadlock is thrown and cannot be re-opened without a key. For homes that need a high level of security these locks are ideal. However they can be a hassle, since there is no convenient way to throw the lock. You will need at least two copies of the key to prevent losing one. You can keep one in the lock on the interior side to make it easier to lock the door. Typically, deadlocks are used in commercial locations that need extra security.
Deadbolts are a very common feature in homes. A deadbolt can be used on its own, or in conjunction with a regular door lock. The deadbolt is placed higher on the door than the handle and is thrown from the inside with a turning knob, or locked from the outside with a key. When this is turned, the latch moves from inside the lock mechanism, into the receptacle in the door frame.
Both a deadlock and a deadbolt require similar installation practices. A hole must be drilled into the door for the lock mechanism and a matching spot must be drilled away in the frame of the door to house the bolt when it is thrown. A locksmith is typically needed to key a deadlock however, where as a deadbolt can be purchased at a store and installed without any additional help required.
Both types of locks are difficult to pick, and depending on the material used for the bolt, nearly impossible to break. For a regular home, a deadbolt is typically sufficient and is desirable thanks to its ease of locking from the inside. For homes with many valuables, or homes in neighborhoods where crime is an issue, a deadlock has its advantages due to its sturdier nature and lack of a latch.