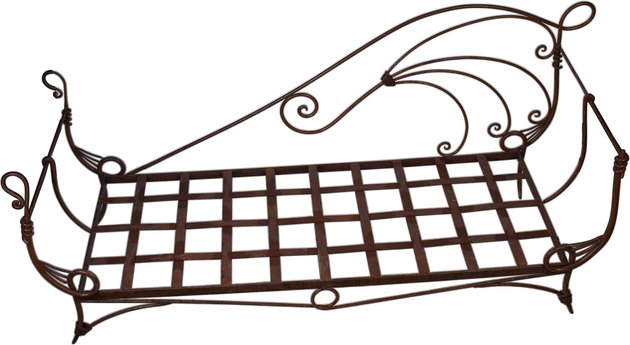 Most daybeds require some assembly, but you'll rarely need more than a screwdriver or Allen wrench to complete the project. Hardware for a daybed consists of screws and bolts necessary to hold the frames and rail together. Always place hardware in a labeled plastic bag after disassembling the bed. Tape the bag to the metal frame with packing tape so it doesn't get lost.
Screws
Metal daybeds are typically secured with metal screws. A hardware kit may include eight screws 1 1/2 inches long to secure the frame, eight shorter screws, approximately 1 inch in length to secure the rails and eight 2-inch screws with bolts to secure the cross bars, which attach to the rails and support the mattress. A hardware kit may also contain rubber pads to fit over the feet of the daybed to prevent damage to the floor.
Tools
Depending on the type of screws that come with the daybed, you may need an Allen wrench, a Phillips screwdriver or a flat-head screwdriver to assemble the bed. An electric screwdriver expedites the process but really isn't necessary, since the screws slip easily into the metal.
Other Parts
In addition to the hardware, metal daybeds come with a metal frame, two side rails, footboard, headboard, and crossbars. The metal pieces may be made from an aluminum alloy, prone to bending. Vintage or more costly daybeds may be made of wrought iron.
Recommendations
Daybeds have some elements in common but may vary slightly in materials and assembly. If you've lost your hardware kit, inspect your daybed, counting the number and size of holes before purchasing new hardware. Daybed manufacturers may offer hardware kits online or at stores to replace missing pieces.
---
Julie Christensen is a food writer, caterer, and mom-chef. She's the creator of MarmaladeMom.org, dedicated to family fun and delicious food, and released a book titled "More Than Pot Roast: Fast, Fresh Slow Cooker Recipes."