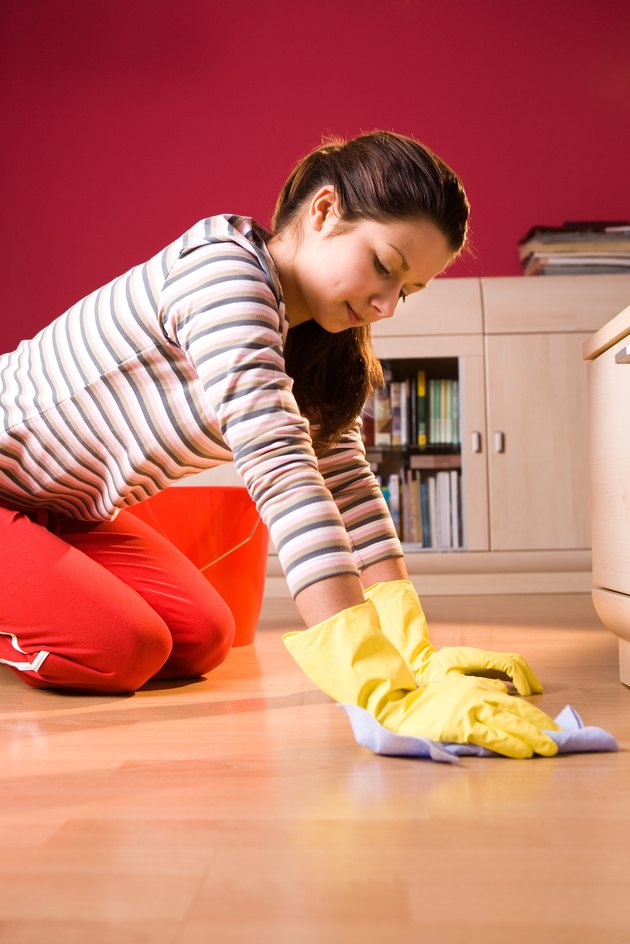 Over time, floors become dully, dingy and lose their luster. Several commercial cleaners help restore the shine to the floors. However, these cleaners can be expensive and contain harsh chemicals. For an inexpensive and safer option, use liquid fabric softener to make your floors shine.
Cleaning the Floors
Before you shine your floors give them a thorough cleaning to remove any dirt and grime. To start, sweep the entire floor with a broom as you normally would. After you have removed the surface debris with broom and dustpan, mop the floors to remove the deep-down dirt and grime. Instead of using commercial products, make a homemade floor cleaner by adding 1 cup of white vinegar to 1 gallon of water.
Liquid Fabric Softener
When choosing which fabric softener to use to make your floors shine, the brand of fabric softener does not make much of a difference. However, you want to use a liquid softener that does not contain a heavy fragrance or various additives. Instead, choose a cheaper, no-frills liquid fabric softener to shine the floors.
Make Floors Shine
After you have thoroughly cleaned the floors, wash them with a solution of 1/2 cup of the liquid fabric softener mixed in a bucket filled half way with lukewarm water. Dampen a sponge mop in the fabric softener mixture and begin scrubbing the area of the floor furthest away from the entrance. Mop in a back-and-forth motion while making your way toward the entrance. Once you have shined the entire floor, let it air dry for several hours.
Considerations
Do not use fabric softener to shine hardwood floors. Only use the homemade floor shiner on linoleum and vinyl floors. Always follow the manufacturer's recommended cleaning instructions for your brand of flooring. Before trying any new cleaners on the floors, test it on an inconspicuous area of the floors. After waiting 24 hours, if damage or discoloration develops discontinue use. When cleaning the floors, refrain from over saturating them with the cleaning solution. Doing so increases the chance of water damage.
---
Amanda Flanigan began writing professionally in 2007. Flanigan has written for various publications, including WV Living and American Craft Council, and has published several eBooks on craft and garden-related subjects. Flanigan completed two writing courses at Pierpont Community and Technical College.