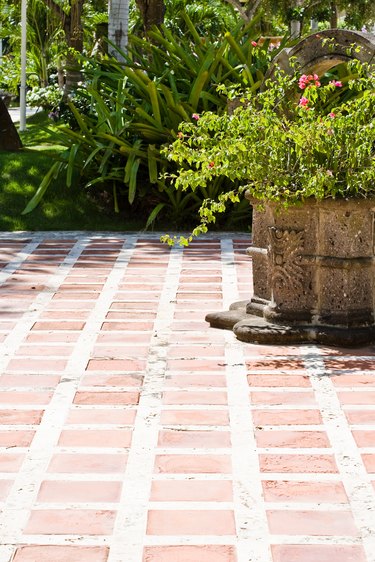 Homeowners have many materials available for landscaping outdoor areas around their homes. This area of landscaping is generally referred to as "hardscapes" or areas that utilize hard building materials such as concrete, stone, brick or tile. Choosing between materials, such as pavers versus tile, is determined by the type of area and how the area will be used.
Types of Tile
Tiles come in wide array of materials, colors, sizes, textures and styles. Tiles can be made of ceramic, clay, porcelain, stone or concrete. Tile may be patterned with design glazed onto the surface or may be solid colors with no glazing. Silicon or epoxy grout is often used for exterior tiles, according to the CeramicTileandStoneConsultants website. (see reference 1)
Advantages of Tile
Tiles provide an elegant, high-quality look for residential landscaping. Tiles come in a range of sizes that can be worked into intricate designs with many colors. They provide a solid walking surface similar to flooring that makes outdoor areas an extension of the indoor living space. Tiles are easy to clean and maintain their appearance for many years.
Disadvantages of Tile
Tiles are generally twice as expensive as paver materials. Though durable, tiles can be damaged by heavy use, and should not be used in areas where landscaping equipment or vehicles can scratch or crack the surface. Glazed tiles in particular cannot be repaired and will need replacement when damaged. Unglazed types of tile have color that goes all the way through the tile, so damage is less noticeable. Stone can be chipped and need replacement. Replacement of tiles requires some labor by a skilled tile contractor and tiles may be hard to match. Grout used between tiles can discolor and degrade. It needs resealing annually to maintain its appearance.
Types of Pavers
Pavers are usually made from concrete, stone, brick or limestone. Pavers are generally used for heavy traffic areas such as sidewalks, driveways and patios. Pavers may be interlocking, providing a solid, long-lasting surface that wears well when exposed to the elements.
Advantages of Pavers
Pavers are durable, inexpensive and easy to maintain with soap and water. It does not use grout that can become dirty, stained and requires periodic resealing. Pavers come in many configurations to create interesting design patterns for hardscape areas. Pavers stand up well to hard use and can be easily replaced when damaged.
Disadvantages of Pavers
Pavers do not provide the luxurious look that tiles provide. Pavers offer fewer design options than tiles and come in fewer colors and textures. Pavers can become stained by outdoor grease, oil and plant fluids. Sealers to prevent staining must be re-applied every three to five years, according to the WoodruffBlock website.
---
J. Lang Wood's stories, essays and articles have been seen in journals across the country and online. She is a published short story and essay writer who specializes in travel topics, pets, medical subjects, Florida history, environmental issues, political and business topics. She is the author of the novel "Strays" and holds an Associate of Arts in chemistry from College of DuPage.