Things You'll Need
Screwdriver

Staple remover

Upholstery fabric

Measuring tape

Pencil

Scissors

Foam

Staple gun

Staples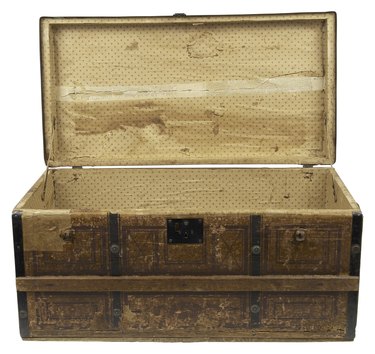 Lane cedar chests store keepsakes and blankets in a protected environment with an added natural odor protection from the pungent cedar. Cedar chests are often handed down from generation to generation through families. Some models have a padded lid to sit on for additional seating in the bedroom. After Many years, the top padding wears thin, or compacts, and becomes less comfortable. You can recover the lid of your lane cedar chest to match your décor.
Step 1
Open the cedar chest lid to gain access to the hinges. Turn each of the top screws on the two lid hinges counterclockwise to loosen and remove them. Set the screws aside and pull the lid off the cedar chest.
Step 2
Using a staple remover, remove all the staples or pins that hold the fabric to the inside of the chest lid.
Step 3
Pull the upholstery and the foam pad or batting off the lid.
Step 4
Lay your new upholstery on a flat surface. Place the lid on the upholstery with the lid top facing down. Hold the tip of a measuring tape next to the lid on one side. Place a pencil in your hand at the six-inch mark on the measuring tape. Slide the measuring tape around the lid and mark the material with the pencil 6 inches larger than the lid on all sides.
Step 5
Remove the lid from the upholstery and cut along the pencil lines with scissors.
Step 6
Lay foam on top of the upholstery fabric. Using scissors, cut the foam in the same size as the upholstery fabric.
Step 7
Center the lid topside down on top of the foam and upholstery fabric. Pull the fabric and foam tight to the cedar chest lid in the center of one side. Staple the fabric and foam in place with a staple gun. Pull the center of each additional three sides inward and staple them.
Step 8
Work along one side of the lid from the center to one corner and then to the other corner, stapling as you go. Put a staple about every 2 inches. Repeat this step on the other three sides. Fold the corners inward and staple them to the chest lid.
Step 9
Center the lid over the cedar chest bottom and attach the lid side of the hinges with screws and a screwdriver.
Tip
Pull the fabric taut when you staple it to the lid so there are no wrinkles in the fabric. Upholstery fabric is thicker than standard fabrics and will last longer.
---

Mary Lougee
Mary Lougee has been writing for over 10 years. She holds a Bachelor's Degree with a major in Management and a double minor in accounting and computer science. She loves writing about careers for busy families as well as family oriented planning, meals and activities for all ages.