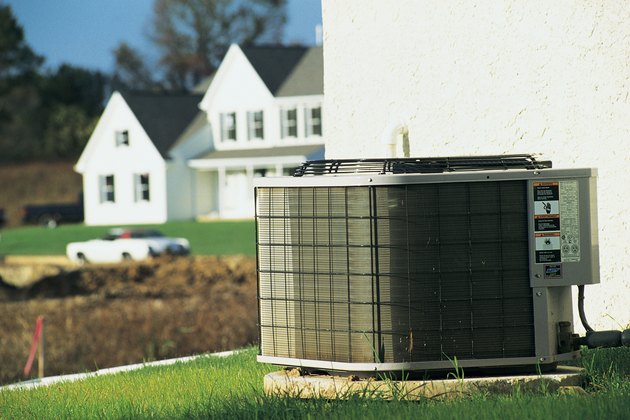 During hot and sticky summer days, there are few things to wonderful as central air conditioning. Filling the house with cold, refreshing air, an AC unit is a sound investment in comfort and will last for years. Proper maintenance will keep an air conditioner humming along as well, as a neglected machine loses efficiency at a rate of five percent a year.
Life Span
Though estimates vary somewhat from one source to the next, the average central air condition has a life expectancy of roughly 12 to 15 years, according to the Consortium for Energy Efficiency and heat pumps should last about as long. Newer models typically have longer lifespans than older ones, thanks to improvements in technology. In order to get the maximum life out of a central air condition, proper installation and maintenance are key though.
Replacing Bits and Pieces
Parts of a central air conditioner should be periodically replaced to keep the machine working well. Periodically change the air conditioner's return air filters at intervals of 30, 60 or 90 days, as laid out by the manufacturer. Clean filters allow air to run easily through the machine, preventing it from having to work harder and less efficiently. Change thermostat batteries twice annually in order to get an accurate reading, which will then allow for better use of your air conditioner.
Condenser Maintenance
Keeping your central air conditioner's condenser clean goes a long way in helping it last for years to come. Install a fence as a barrier against animals who might urinate on the condenser, corroding the coils. Check the condenser to make sure it is level with the ground, as a tilted one inhibits proper water drainage and the functioning of the compressor contained within it, according to the Charlotte HVAC Guide. Also, ensure the condenser is not blocked or otherwise clogged by debris.
Professional Visit
There are plenty of things homeowners can do to keep their air conditioners running smoothly, but a yearly visit from a professional is also a valuable investment. A certified HVAC specialist can safely examine the AC unit's electrical components to ensure they are in working condition and make sure refrigerant is at the proper level. A professional can also oil the air conditioner's motor and check the thermostat, according to the Carrier Corporation, making sure everything is in good shape.
---
Hallie Engel is a food and lifestyle writer whose work has appeared in several international publications. She served as a restaurant critic for "Time Out Abu Dhabi" and "Time Out Amsterdam" and has also written about food culture in the United Arab Emirates for "M Magazine." She holds a bachelor's degree in communications and film studies from University of Amsterdam.