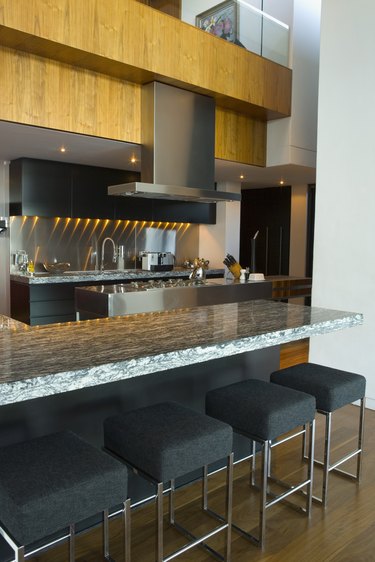 Laminate is created when layers of decorative and core paper are fused into a single sheet by saturating the papers with resins and then pressing them under high heat. Conventional laminate tends to be stiff, inflexible horizontal sheets. However, another type of laminate, called postforming, or post-formed, laminate is a grade of laminate that is a little thinner and more flexible than conventional horizontal laminate.
Postforming Process
For the postforming process, a sheet of laminate is heated to soften the resins in the material, letting the laminate bend more. The technical specifications are that decorative papers saturated in melamine resin are combined with phenolic-soaked kraft layers at pressures above 750 psi and temperatures close to 300 degrees Fahrenheit.
Uses
The most common use of post-formed laminate is for wrapping the edges on pre-fabricated laminate countertops. However, postforming laminate is also used commercially to wrap end tables, columns, cash wraps and slot machine bases.
Countertops
In the world of countertops, post-form countertops are pre-manufactured with the laminate already bonded to the particle-board backing. These laminate countertops are available as drop-in-place sections with the laminate material already bonded and shaped around the edges and backsplash. In contrast, countertops made with conventional laminate sheets have the sheets laid flat on the backing and then separate strips of laminate are used on the edges and backsplash.
History of Laminate
The Westinghouse Corporation invented laminate in 1909 to insulate electrical devices. Laminate's decorative use began in the 1920s, when a top layer of decorative paper was added. The process for postforming laminate was developed by Frank Ward, an engineer at the Formica Corporation who began experimenting in the late 1950s, with a successful culmination in the early 1970s.
---
Carol Wiley started writing as a technical writer/editor in 1990, was a licensed massage therapist for almost 12 years and has been writing Web content since 2003. She has a Bachelor of Science in aerospace engineering, a Master of Business Administration, a Certificate in Technical Writing and Editing and a Certificate in Massage Therapy.