A good night's sleep gives you oomph for the entire day. If your mattress isn't giving you the comfort and support you crave, you may need to give it a little extra attention. You've spent a lot of time and money purchasing a pillow top mattress so that you don't waste its life by not taking the time to give it a good fluff from time to time. Pillow tops can have a long and comfortable life with just a few extra steps completed throughout the year.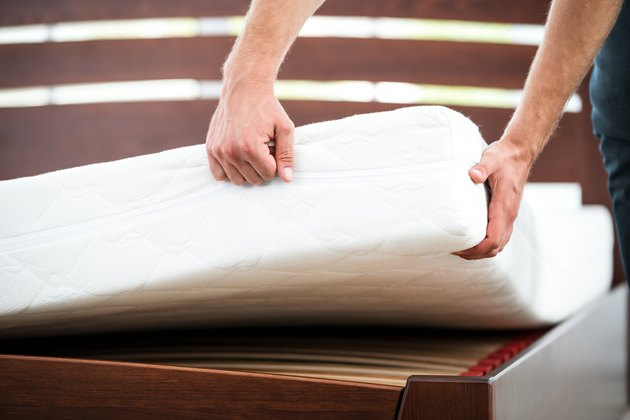 Lift and Rotate the Mattress
Flipping for fluff is a standard first response when your bed gets bumpy. If you aren't accustomed to this annual ritual, you may be missing out on a solid night's rest. A mattress needs to be lifted and rotated on a regular basis so that your sleeping habits don't give the pad lumps and bumps from where you tend to settle each and every night. Grab the head of the mattress and flip it to the foot once every three months at the very least. Pillow top mattresses tend to be padded on one side, so you aren't able to flip it over for a fresh start. Giving your mattress a good flip on a regular basis will cut down on the breakdown of the pillow top.
Beat the Dust Out of the Mattress
If you have room, take the removable pillow top mattress outside to hang over a balcony or on a sturdy clothesline. Give it a good beating with a broom or stick. If you have friends or little ones available, enlist their help. You are trying to beat the dust that lies deep in your mattress out of its many nooks and crannies as well as springs and fibers. Wear a dust mask to keep allergies at bay, and give the mattress a beating for a solid 10 or 20 minutes to fluff it up. If you can't hang it, laying it down on a clean sheet and using your body to roll over it, paired with beating it, can also help it to meet its full fluff potential.
Bonus Fluff Work
As long as you are in it for the long haul, consider sprinkling baking soda over the top of the mattress when you flip it or when you change the sheets, and let it rest there for a good hour. The baking soda will lift odors and oils from the mattress and keep it from becoming dense with dust and skin cells. Vacuum the baking soda up before putting on fresh sheets.
---
Kimberley McGee is an award-winning journalist with 20+ years of experience writing for a variety of clients, including The New York Times, Las Vegas Review-Journal Home section and other national publications. As a professional writer she has researched, interviewed sources and written about home improvement, interior design and related business trends. She earned a B.A. in Journalism from the University of Nevada, Las Vegas. Her full bio and clips can be viewed at www.vegaswriter.com.
View Work