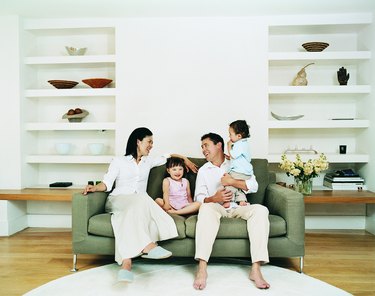 Just as the average height of a human being has increased over time, so has the average seat height of a sofa. However, the sofa is one of the most used pieces of furniture in the home, and its seat height affects the comfort of those who use it. Consider the heights, weights and ages of household members and frequent guests in order to choose a seat height that will comfortably accommodate them.
18 to 19 inches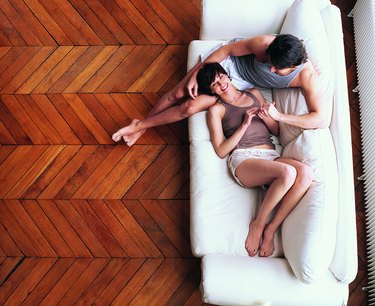 Short adults often feel most comfortable in a seat height that is slightly lower than average, particularly if they are elderly. Their feet should touch the floor when seated, and the knee should bend at a 90-degree angle for ease in rising from the sofa. When asking for a sofa seat height, be aware that it is measured from the crown, or highest point in the center of the cushion.
20 to 21 inches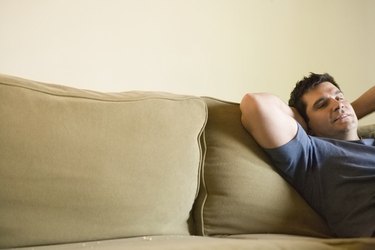 This seat height is average for most of today's ready-made sofas. It accommodates most healthy adults of normal heights and weights. Overweight adults tend to compress a sofa's seat cushions more than a person of normal weight, so a higher seat height may be needed. Although this seat height may feel right in most cases, consider the depth of the seat and the pitch of the back for overall comfort.
22 inches
Some seat heights reach 22 inches, particularly among large-scale sofa designs. This height tends to be favored by individuals at least 6 feet tall because the knee bends at a more comfortable angle when seated. Shorter household members who curl up on the sofa rather than rest their feet on the floor may also be comfortable with this height. When there is a wide range of heights among household members, chairs with other seat heights may accommodate them better.
Customized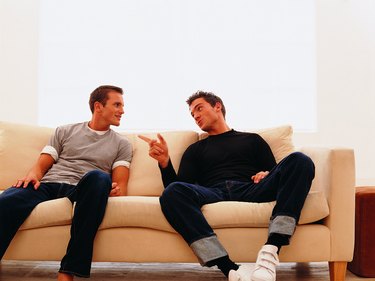 A custom-order sofa can often be purchased with leg options that vary the overall height of the sofa, including the seat. If you want to order a different leg height from the standard one, sit on a sofa that has the seat height that your sofa will have when it arrives. Even a 1-inch difference in leg height can make a great deal of difference in the way a sofa "sits." Instead of custom-ordering, you may wish to consider using temporary leg lifts or caps that can raise the height slightly.
---
Cynthia T. Toney, a former newspaper designer, began writing in 1999 for a newsletter devoted to decorating with salvage. As advertising and marketing director for an educational publisher, she wrote copy for its website, catalogs and mailings. Toney also has been an interior decorator and is the author of a teen novel, "Bird Face." She holds a Bachelor of Arts in art education.