Things You'll Need
Manicure scissors

Fabric glue

Stuffing

Tweezers

Wax paper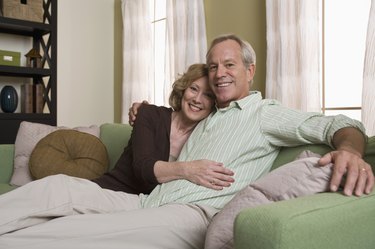 Microfiber remains popular for furniture. This very short-nap, soft material can stand up to a lot of wear and tear, but it is not burn-resistant. Small cigarette burns can ruin the look of your sofa, loveseat or chair made from microfiber. However, you can repair burn holes in this fabric, and restore them to a pleasing appearance. A little patience and some simple guidelines will help you repair burn holes in your microfiber furniture.
Step 1
Trim the edges of the burn hole to remove discoloration. Make the edges of the hole as neat as possible. Also make the hole as symmetrical as you can.
Step 2
Apply a very small amount of fabric glue to the edges of the hole. This will present further fraying. Allow the glue to dry at least 30 minutes.
Step 3
Find a part of the microfiber that doesn't show, such as the back rear of the couch. Cut a patch from that section of the couch that is at least 1/4 inch larger than the hole.
Step 4
Place stuffing in the hole. This will prevent your patch from sinking in. The uniform texture of your microfiber will give the appearance of a smooth finish and help hide your patch.
Step 5
Apply some fabric glue to the stuffing. Also apply fabric glue around the edges of your patch. Make sure you only put glue on the outer 1/4 inch of the patch and don't get any in the middle of it.
Step 6
Fold your patch in half and work it into the hole. Use tweezers to unfold it and work the patch around so the grain of the microfiber on the patch matches the grain on the couch.
Step 7
Place wax paper over the patch. Set books on top of the wax paper. The weight will help make sure the glue on the patch makes contact with the edges of the hole.
---
Kevin Johnston writes for Ameriprise Financial, the Rutgers University MBA Program and Evan Carmichael. He has written about business, marketing, finance, sales and investing for publications such as "The New York Daily News," "Business Age" and "Nation's Business." He is an instructional designer with credits for companies such as ADP, Standard and Poor's and Bank of America.