Things You'll Need
Powdered cleaner

Water

Nylon scrub sponge

Cloths

400-grit sandpaper

Automotive polishing compound

Gel gloss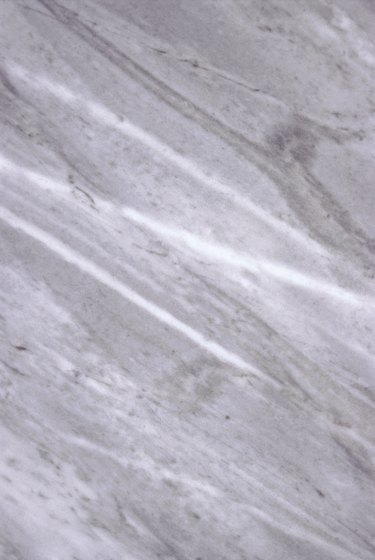 Cultured marble is not the same as natural marble that is mined from the earth. Instead, cultured marble is created from plastic polymers that are bonded together chemically and then colored to resemble natural stone marble. The surface of cultured marble is a gel-based coating that makes it shiny. Lit or newly extinguished cigarettes will burn the surface of cultured marble and leave a brown stain. Removing it involves sanding down the surface.
Step 1
Sprinkle 1 tsp. of a powdered cleaner over the cigarette burn and add one to two drops of water until a paste forms.
Step 2
Scrub the burned area with a nylon scrubber sponge using circular motions.
Step 3
Wipe the area with a clean, damp cloth to remove the cleaning powder. If any of the cigarette burn remains, proceed with the removal process.
Step 4
Hold a piece of 400-grit sandpaper, designed for use with water, under a faucet until it is saturated.
Step 5
Scrub the burn with the sandpaper using circular motions until it no longer remains.
Step 6
Open a bottle of automotive polishing compound and apply 1 tsp. of it to a cloth. Rub the marble with the cloth again using circular motions to smooth out any gouges or lines created by the sandpaper. Continue rubbing until the polishing compound is completely absorbed.
Step 7
Open a bottle of gel gloss and apply 1 tsp. of it to a fresh, dry cloth. Wipe it over the repaired area of the cultured marble using circular motions until the marble is again shiny and no evidence of the repair remains.
---
Kimberly Johnson is a freelance writer whose articles have appeared in various online publications including eHow, Suite101 and Examiner. She has a degree in journalism from the University of Georgia and began writing professionally in 2001.