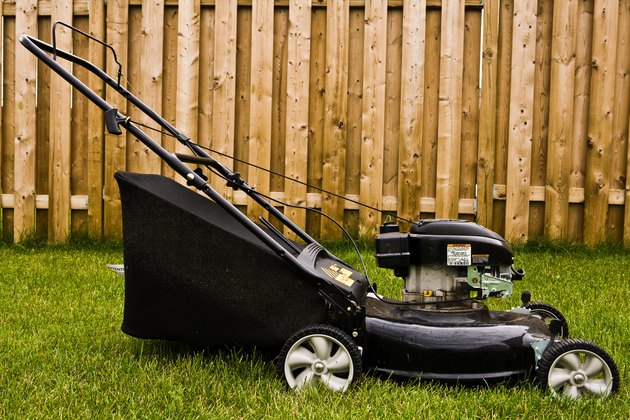 Many walk-behind or push mowers have a built in self-propel system that consists of a series of pulleys, a small transmission and a belt drive. If you want to disconnect or disable the self-propel system on your lawn mower, you can easily do so by removing the drive belt that connects the transmission to the main shaft of the mower's engine.
Step 1
Disconnect the spark plug wire from the mower's spark plug to disable the engine. This prevents accidental starting while you work near the mower blade.
Step 2
Remove the screws that hold the transmission cover onto the top of the mower with a screwdriver. Place the cover off to the side. This exposes the main transmission housing and transmission pulley.
Step 3
Locate the setscrew between the transmission and pulley. Turn it counterclockwise as you pull up on the drive belt attached to the pulley. Stop turning the setscrew when you can slip the belt off the pulley.
Step 4
Place the mower on its side so the air cleaner faces upward. This prevents gasoline from getting into the air cleaner.
Step 5
Pull the belt though the access hole in the mower deck and then slip the belt off the pulley mounted between the bottom of the mower deck and the mower blade. If you cannot slip the belt past the blade, remove the nut that holds the blade onto the main shaft, remove the blade and belt and then reinstall the blade.
Step 6
Place the mower back onto its wheels and then reattach the transmission cover with the original screws and your screwdriver.
---
Lisa Wampler began writing professionally in 2005 and has published on various websites. She specializes in content writing and search engine optimization, drawing from previous positions as an account manager and a social media manager for an SEO company.