Many property owners install trench drains to alleviate flooding on the interior or exterior of their homes by directing water to a pump or to a low ground away from the property. Common applications include basements, garages and driveways. The traditional system consists of building a wood form and pouring concrete. Another option makes it easier for do-it-yourself installations by using a presloped drainage system in kit form. Many manufacturers of these systems use a polymer concrete material to fabricate channels and accessories. The installer only has to assemble the system and pour the concrete.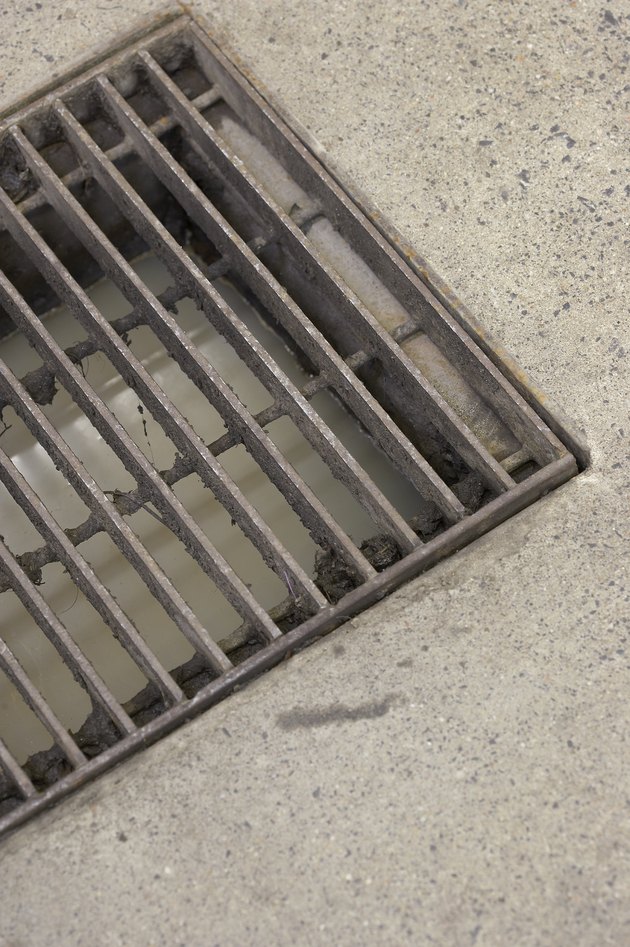 Step 1
Decide where to place the drain, such as down the middle of a garage floor or at the end of a driveway. Use a measuring tape to determine the run for the drainage system. Purchase a trench drain kit of the proper size needed to complete the project. Mark off the installation area for the trench.
Step 2
Excavate the trench in a path free of obstructions. Dig to the proper depth; the channels require at least 4 inches of depth and space around the components. Clean out any debris. Install a 1-inch layer of gravel and use a tamper to compact the gravel base. This prevents voids in the base. Make the final depth 4 inches or equal to concrete thickness underneath and on the sides of the channels.
Step 3
Locate the catch basin near the discharge piping stub-in at the discharge point. Drill out the cutout, which corresponds to the pipe size. Make the appropriate discharge pipe connections. Locate the pipe stud-in near the catch basin. Use a drill to remove the cutout for the pipe size. Connect the outlet to the catch basin. Skip this step if directing the water to a certain low area.
Step 4
Start the layout of the channel with the lowest number piece at the deepest/discharge end. Work upstream. Seat the modules in the installation chairs and fasten the channels in place. Secure installation chairs into the ground using #4 rebar. Rebar, which refers to stainless steel rods ½-inch or more in diameter, also provides stability for the system and keeps it in place during the concrete pour.
Step 5
Raise the channel to the correct height and connect the rebar clamps. Caulk the seam around each joint between the channels with caulk. Lock the grates in place. This keeps wet concrete from weighing down on the grates and distorting the component. Cover the grates with plastic grate bags. The bags protect the grates and enable a quick cleanup. Check the channels for stability to assure they will not float when pouring the concrete. Pour the concrete. Make sure the concrete flows under the channels and consolidates properly