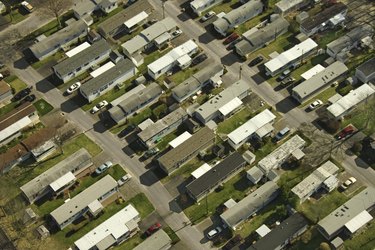 Depending on the area where you live, your mobile home may qualify for permanent residence status. The requirements for turning a mobile home into a permanent home vary by state and even by individual counties within the state, so check your local laws for specifics before you attempt to secure permanent home status for your double wide. Converting a mobile home to a permanent residence often involves placing the mobile home on a stable, permanent foundation and filing the proper paperwork with your county tax collector or property appraiser.
Step 1
Check all your local laws to determine exactly what you need to do to your mobile home to make it into a permanent home in your area. Make a list of all the changes or adaptations you will need to make and contract a professional building contractor to perform the job.
Step 2
Select a location for your mobile home to permanently reside. You will need to own the property in most cases, though some states only require that you lease the property (such as is common in mobile home parks).
Step 3
Have your contractor pour a permanent foundation for the home, if desired. Remove the wheels and axles from underneath the trailer, rendering it a permanent structure that cannot move. Make arrangements to hook the home up to both a septic tank and a source of water, either community water or from a well, as well as to electricity. If you are converting an existing home, you may need to modify the arrangements slightly to allow for the removal of the axles or the pouring of the foundation. Ensure your contractor obtains the proper permits to perform the work.
Step 4
Contact your local property appraiser and have the home re-assessed as a permanent residence. If you were previously paying annual registration and taxes on the home as you would a vehicle, you may also need to contact your local tax collector branch to change the home's status. Provide documentation of the change and allow a home inspection as necessary. Some areas present the homeowner with a sticker to put on the trailer demonstrating that it is a permanent residence.
Tip
Some states and counties require the home to be on a permanent, poured foundation just like an actual house, while other areas only require that you place the home in a permanent location and that you remove the axles and wheels from underneath it to prevent future relocation. It is absolutely crucial to check your local laws before attempting to make your mobile home into a permanent residence.
---
Jen Davis has been writing since 2004. She has served as a newspaper reporter and her freelance articles have appeared in magazines such as "Horses Incorporated," "The Paisley Pony" and "Alabama Living." Davis earned her Bachelor of Arts in communication with a concentration in journalism from Berry College in Rome, Ga.