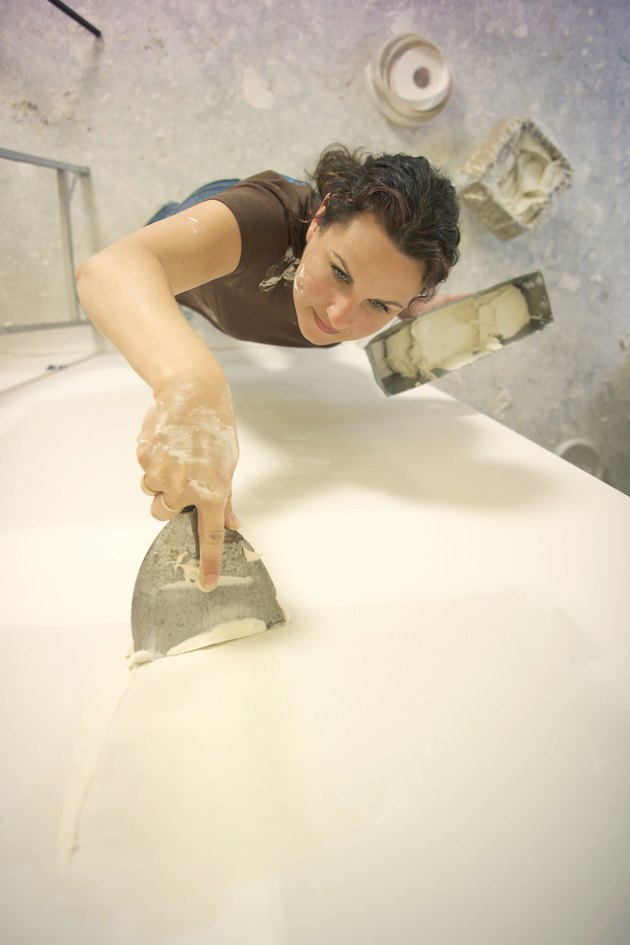 Knockdown drywall texture is often found on a home's interior walls and ceiling. Benefits of the plaster applied to the walls include visual appeal, disguising drywall installation flaws as well as a sound barrier. Depending on where you live in the U.S., knockdown plaster finishes are known by a variety of different names, including Spanish lace, California knockdown and knockdown executive finish. Once knockdown is sprayed or troweled on your home's walls or ceilings, the plaster is very difficult to remove. Understand the different types of knockdown, as well as the benefits and disadvantages of the plaster.
Sprayed Knockdown
Joint compound is mixed with water and added to a hopper. The material is sprayed onto the wall's or ceiling's surface. Once applied, a metal or plastic trowel is used to knockdown any high areas of the texture. The finish is allowed to dry for about 24 hours and then painted. If applied to a ceiling, the texture should be painted only with flat paint. Paint with any sheen levels applied to the ceiling cause glare and distract from the room.
Hand-Applied Knockdown
A more unique type of knockdown texture is applied by hand. Joint compound is still used, however, the plaster is rolled in different directions. The roller creates a texture with many different large peaks standing up from the wall. The artisan will then take a trowel and knockdown these peaks. You can move the trowel in vertical and horizontal sections.
Crow's Feet Texture
Crow's feet texture is generally applied only to ceilings. The finish is also known as "slap brush technique." Plaster is sprayed or hand applied to the ceiling. A large brush or other plaster tools, such as a large paint brush or plastic trash bags, are stamped into the wet joint compound. Any peaks are then knocked down using a drywall trowel.
Additional Textures
Besides knockdown texture, other textures commonly applied to walls and ceilings include stipple texture, orange peel and popcorn ceiling texture. Stipple texture is applied by pouncing a brush into wet plaster. Orange peel is a light texture commonly sprayed onto walls and looks similar to the actual fruit's rind. Popcorn texture is sprayed on ceilings and mimics the look of cottage cheese.
---
Julie Hampton has worked as a professional freelance writer since 1999 for various newspapers and websites including "The Florida Sun" and "Pensacola News Journal." She served in the U.S. Army as a combat medic and nurse for over six years and recently worked as the Community Relations Director for a health center. Hampton studied journalism and communications at the University of West Florida.