Things You'll Need
Handsaw or chain saw

Caustic soda

Measuring cup

Bucket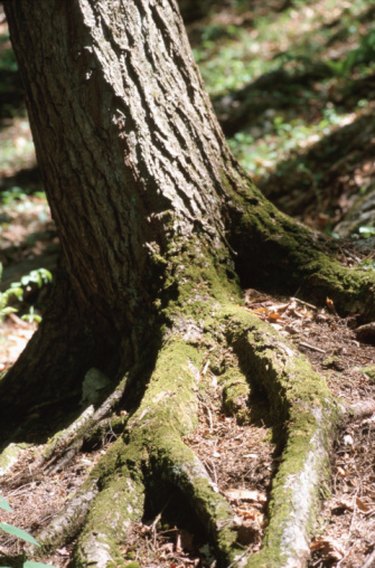 Invasive trees can block sunlight, crowd other plants, or penetrate a house's foundation or plumbing system with their roots. Killing an invasive tree may require not only cutting down the tree, but killing the tree's root system, which can spur new tree growth. Caustic soda, also known as sodium hydroxide, kills the remaining tree stump and the root system.
Step 1
Use a chain saw or handsaw to slice a V-shaped notch into one side of the tree by making one downward angled cut and one upward angled cut. Make one level cut on the tree's opposite side, cutting toward the notch.
Step 2
Cut through the trunk until approximately one-tenth of the tree's diameter remains. Step out of the tree's landing area, and wait until the tree has fallen.
Step 3
Use a measuring cup to pour 2 parts water and 1 part caustic soda into a bucket. Mix the solution.
Step 4
Pour the caustic soda solution over the tree stump. Saturate the entire stump with the solution. The caustic soda will kill the stump and travel down to the tree's root system and poison it.
Step 5
Watch the stump for offshoots or any other new signs of life. Repeat the caustic soda treatment as necessary to kill the stump and root system.
Warning
Before felling the tree, remove any objects from the landing area.
Always wear safety gloves and goggles when using hand tools or power tools.
---
Andrea Stein has been writing since 2004. She was a features editor for "Hallmark Magazine" and has served as newsletter editor for several nonprofit organizations. Stein has also worked in public relations, marketing and administration. She earned her Bachelor of Arts in English from the College of Dupage in Illinois.