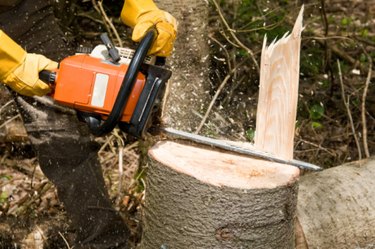 In addition to making a wide range of power drills and machine shop saws, Stihl also manufactures chain saws. The 028 Wood Boss is a chainsaw that Stihl has manufactured for a number of years. When trying to find replacement parts or other maintenance-related information, it might be necessary to know the exact year your Wood Boss was made. This information can be obtained through Stihl with just a little information from your end.
Step 1
Set the Stihl chain saw on a work bench.
Step 2
Turn the saw around so that the blade is pointing towards you.
Step 3
Find the saw decal located at the bottom right where the saw's bar meets the base of the saw. Beneath the UPC code is the serial number.
Step 4
Call Stihl customer support at 800-610-6677. Give the customer representative agent the serial number and they, in turn, will be able to look up the year the saw was made.
---
Andrea Walk began writing in 2001, authoring user guides for technical software. She holds a Bachelor of Arts in political science from Loyola University, where she was a member of the Dean's Grade Review Committee for English. Walk is a member of the Automotive X-Prize team Global-E.