Things You'll Need
Mild moisturizing soap

Washcloth

Soft, lint-free cloth

Leather conditioner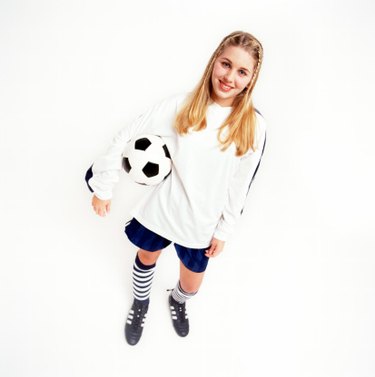 Adi Dassler created the first Adidas sneaker in the 1920's. His intentions were simple, yet powerful, and they guide the company even today. He wanted to create a shoe that would protect the wearer from injury, enhance athletic performance and be extremely durable. Adidas Sambas are one of the most common and identifiable Adidas athletic shoe to date, with the iconic three stripes, often white, along each side of the shoe. While the shoes are made to last a long time, you'll have to wash them from time to time to keep them looking good. Since the shoes consist of leather, you'll have to wash them by hand.
Step 1
Dampen your washcloth. Add a drop of soap to the center of the cloth. Rub the sides of the cloth together to help disperse the soap evenly.
Step 2
Rub the washcloth over the exterior of your Sambas, removing all caked-on dirt. Don't saturate them with the soap and water, just rub them softly to remove the grime.
Step 3
Wipe the shoes down with a clean, lint-free cloth. Allow them to air dry for an hour.
Step 4
Turn the cloth over to the clean side and add a drop of leather conditioner to the center. Rub each shoe with the cloth. Your Sambas will have a really bright shine, but that will lessen as the leather absorbs the conditioner. Allow the conditioner to fully absorb into the shoe in a place away from direct heat or sunlight.
Warning
Washing machines may be temptingly simple to use, but they could damage your Sambas.
---
Lane Cummings is originally from New York City. She attended the High School of Performing Arts in dance before receiving her Bachelor of Arts in literature and her Master of Arts in Russian literature at the University of Chicago. She has lived in St. Petersburg, Russia, where she lectured and studied Russian. She began writing professionally in 2004 for the "St. Petersburg Times."