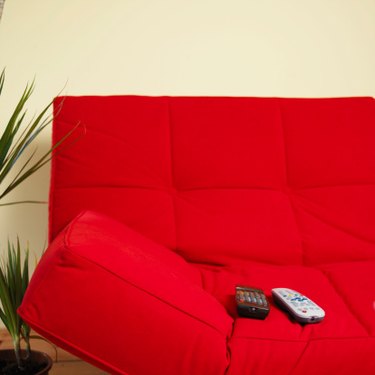 A futon is a combination couch and bed ideal for small spaces and low-budget living. But a futon soon can wear out its welcome. The covers may get stained, its hinges might break, the poles might warp and eventually begin to look shabby. And you can't leave it by the curb with the rest of the trash. Don't know what to do with your old futon? Make a few phone calls and do a little research to find a few options for disposing of this piece of furniture.
Step 1
Call the company delivering your new bed or sofa. Some furniture stores will agree to remove the old futon when a new bed or sofa is delivered. Call the retailer ahead of delivery or make arrangements during the purchase of your new bed or sofa so that the company knows it will be making a pickup in addition to the delivery. If this isn't an option, move on to Step 2.
Step 2
If the futon is in relatively good condition, meaning it is not broken, ripped or stained, you might be able to donate it. Call women's shelters, halfway houses, homeless shelters or charitable organizations such as Goodwill or the Salvation Army. Some may be willing to come and pick up the futon. Or, try posting an ad on Freecycle or the free section of Craigslist. Include a picture and list the Futon as "free for pickup." Even if the mattress is unusable, people still might want the frame. If the futon and frame are in poor condition, move on to Step 3.
Step 3
Find a recycling center. Call your municipal solid waste management department to see whether it has a recycling center that accepts old futon mattresses. If so, they might offer pickup on certain days of the month. If not, look online for mattress recycling centers. Search engines such as Earth911 allow visitors to type in a zip code followed by the item to be recycled to generate a list of recycling centers that will accept futons. The futon frame often can be recycled at any recycling center. But if recycling is not an option, move on to Step 4.
Step 4
Discard the futon. Call your municipal solid waste management department to find out its schedule for large waste pickup. Wait until the scheduled day, then set the futon outside. If they do not offer large waste pickup, you will have to transport it to the nearest municipal or county dump.
---
Based in Houston, Texas, Meg Butler is a professional farmer, house flipper and landscaper. When not busy learning about homes and appliances she's sharing that knowledge. Butler began blogging, editing and writing in 2000. Her work has appered in the "Houston Press" and several other publications. She has an A.A. in journalism and a B.A. in history from New York University.