Things You'll Need
Glass jar

Metal lid

Paper towel

Insect net
Lightning bugs or fireflies are insects found in fields and yards as spring turns to summer. The male lightning bugs fly around and "flash" to attract females to mate with. Lightning bug larvae live in moist places on the ground; the mature insects eat earthworms and slugs, among other things. Lightning bugs don't bite, but some people consider them to be a nuisance and look for ways to get rid of them.
Step 1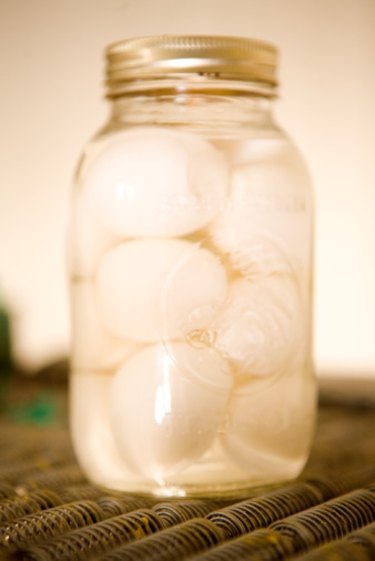 Create a bug cage using a glass jar and a metal lid. Punch or drill holes into the lid so the lightning bugs can breathe. Dampen a paper towel with water, and place it in the bottom of the jar, keeping the air inside the jar humid.
Step 2
Catch the lightning bugs using a bug net. Place the bugs you collect inside the jar, screwing the lid on tight after each one is placed inside.
Step 3
Look for lightning bugs throughout the yard at night by watching for their flashing. Turn off all exterior lights for a better view. Look for lightning bugs during the day in mulch, along the edges of water, in low hanging trees, on rocks or under logs.
Step 4
Walk away from highly trafficked areas at night to release the bugs. Open the jar in a grassy area and release them. Repeat the "capture" steps as often as possible to remove the lightning bugs.
Tip
Don't keep the bugs inside the jar for more than two days or they may die.
Warning
Lightning bugs are dwindling in number; catching them and releasing them elsewhere will help keep their numbers intact.
---
Kelly Gray has been writing for a daily community newspaper in the Midwest since 2000 and her work has appeared in "The Examiner" newspaper. A resident of Independence, Mo., Gray majored in journalism at Kansas State University and received a Bachelor of Arts.