Clawfoots tubs are a throwback to a simpler age of bathing, and even new ones usually have a vintage faucet manufactured to add to the old-fashioned appeal. Modern faucet valve mechanisms like cartridges and ball valves weren't developed until the 1950s, and all faucets that came before were compression-style ones. When a compression faucet leaks, the problem is usually a worn washer on the base of the valve stem, although it may also be wear in the valve seat itself. To diagnose the problem, you have to remove the valve stem from the faucet body.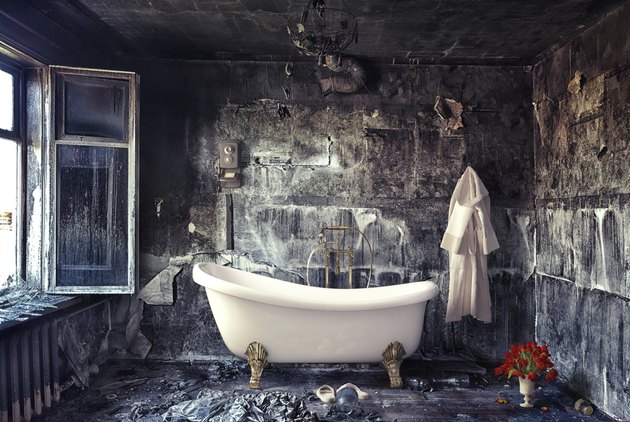 credit:
victor zastol`skiy/iStock/Getty Images
Step 1
Turn off the water to the tub by turning off the valve in the water line that supplies it, or turning off the main water valve for the house. Open both handles on the tub faucet and let the water drain out.
Step 2
Remove one of the handles by unscrewing the screw holding it to the valve stem, removing it and lifting the handle off. If you can't tell whether the hot or cold water is leaking, remove the other handle in the same way.
Step 3
Unscrew the nut holding one of the valve stems to the faucet body with slip-lock pliers. If the faucet is old and corroded, the nut may be stuck. You can usually loosen it by spraying lubricant on it and waiting for about five minutes. If the faucet has a chrome finish, wrap a rag around the nut before gripping it with the pliers to protect the finish.
Step 4
Pull out the valve after you have removed the nut by gripping the stem with the pliers and pulling upward. Turn the valve over and unscrew the screw holding the washer to the end. Replace the washer with a new one. Replace the stem, screw the nut back on and replace the handle. Replace the washer on the other valve stem in the same way.
Step 5
Turn on the water. If the faucet still leaks, one or both of the valve seats may be chipped or corroded, and to repair either one, you will have to remove it.
Step 6
Turn off the water and remove the valves again, then unscrew the valve seats from inside of the faucet with a valve seat wrench. Take them to a machinist to have them ground, or replace them with new ones. Grinding valve seats is not an easy job for a do-it-yourselfer without the proper tools.
Step 7
Screw the valve seats back in and replace the valve stems, the retaining nuts and the handles before turning the water back on.