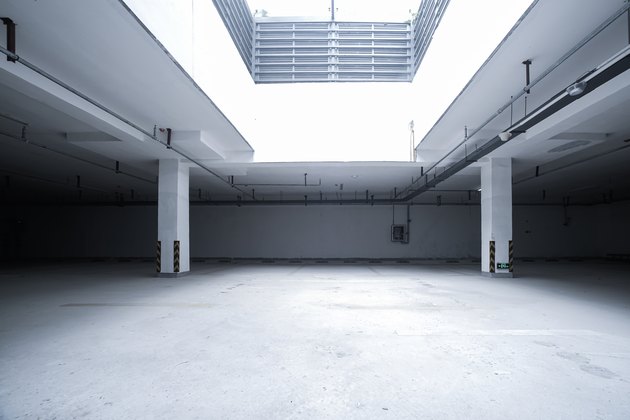 Concrete floors are among the most durable, strongest and easiest to maintain. Unlike tile, concrete floors won't crack if something heavy falls onto them. Unlike wood, concrete is resistant to water damage, making it easy to clean and maintain. However, unfinished concrete can present a host of challenges in terms of its maintenance. With the right tools, however, you can keep it clean and free of dirt, mildew, and mold.
Preparing to Clean Concrete Floor
Unfinished or raw concrete floor is very often jagged and uneven, with bends, curves, peaks and other sharp bits where the concrete may have dried unevenly or where the floor may have not been level underneath. This can make it difficult to clean, as these crevices can potentially trap dirt. The most important thing to do when dealing with a concrete floor is to make sure that no dirt and moisture remain at the end of the cleaning process.
First, sweep the entire concrete floor using a soft-bristled broom. Get up any large pieces of dirt, dust or debris and make sure to take special care in the corners where dirt particles very often gather. Once you've swept up any debris and dirt, go over the floor once again with a vacuum cleaner. Use the hose attachment, and get into the corners and crevices of the concrete floor so you're sure that nothing is left behind.
Once you've finished the initial dry cleaning of the floor, you can move on to the wet cleaning. This is the best way to get your concrete floor completely clean.
Wet Cleaning Concrete Floor
Mopping a concrete basement floor is essential to clean out any dirt mold or mildew. The best mop for concrete floors is the one that you can wring out easily. Select a sponge mop over the traditional string mop. The sponges can be dampened to different degrees so that you can be sure that you don't leave puddles of water all over the concrete, which can lead to a mildewy smell or mold.
You can use a commercial floor cleaning agent that is formulated especially for tile and concrete, or you can improvise and make a cleanser out of household ingredients. A good idea is to begin your cleaning with a solution made of 1 gallon of hot water, and 1 cup of white vinegar. In addition to cleaning properties, the white vinegar has disinfectant properties.
Sweeping it over the concrete basement floor will help to kill any germs, mildew, mold or other bacteria that can collect in dark, moist spaces. Fill a bucket with the solution and use the mop to rub it all over the floor. Make sure that you don't saturate the floor. An important part of mopping the concrete basement floor is making sure that no stagnant water collects.
Mopping Concrete Floors with Vinegar
Mopping concrete floors with vinegar serves a dual purpose. Not only does it clean the floors without the use of harsh chemicals, but it also disinfects, killing bacteria that causes mildew and mold. Concrete floors in underground spaces are at risk of developing mildew and mold because dark spaces give rise to the growth and multiplication of bacteria.
It's important to let concrete floors dry thoroughly, especially when they are in an underground space or a space with minimal light and ventilation, such as a garage or a bunker.
If the concrete floor you are cleaning is in a poorly ventilated area, bring a large fan in and set it on the floor to increase air circulation and encourage drying. You may also need a dehumidifier if conditions are especially damp.
---

Ashley Friedman
Ashley Friedman is a freelance writer with experience working in the home, design and interiors space.