Satsuma trees are tropical to sub-tropical citrus fruits of the mandarin orange variety that originated in Japan. There are several cultivars of satsuma oranges (Citrus unshiu), all of which are valued for their cold tolerance relative to other orange varieties, as well as their thin, easily-peeled skin and few seeds. There are over 100 varieties of C. unshiu, though there are only a few that are regularly available in the United States, according to Milind S. Ladaniya, in the 2008 book "Citrus Fruit: Biology, Technology and Evaluation."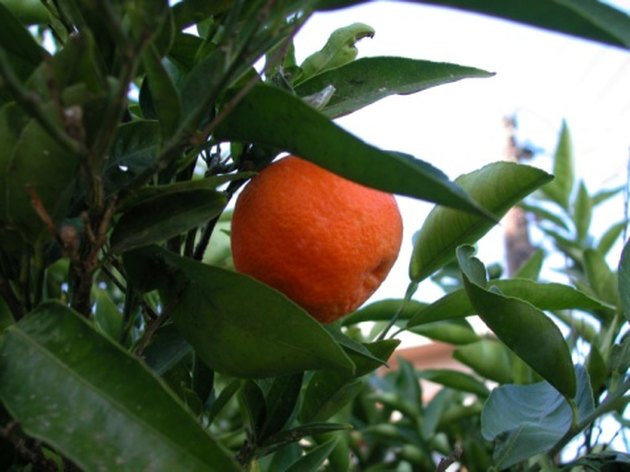 The most commonly used and cultivated variety of satsuma orange, Owari is a medium-sized satsuma that ripens late in the harvest season. The skin is a reddish-orange, and, like all satsumas, it has few to no seeds. Most other cultivars of satsuma on the market today are believed to have been bred from the Owari satsuma. They share some, if not all, the essential characteristics of Owari satsumas.
Obawase satsumas ripen earlier in the season than Owari, making them a better choice for areas that don't have as long a growing season. Their fruit is one of the largest of the satsumas, but the skin color and seed count is similar to Owari.
In size, color, harvest time and seed count, Okitsu is the same as Owari. The flavor is sometimes sweeter than Owari (depending on growing conditions).
Armstrong are another large, early-maturing satsuma variety, and differ from all other satsumas in that they have a much lighter orange skin.
Similar to Armstrong in all but color, and nearly identical to Obawase, Big Early is grown in some parts of the Gulf Coast region.
This high-yielding variety of satsuma is in all other respects very similar to Owari. Kimbroughs produce medium, late-ripening fruit with red-orange, loose peel.
This satsuma is actually a hybrid between Owari and a variety of tangerine. For this reason, the skin and flesh is a bit lighter, and there are more seeds to be had in the medium-sized fruit.
Miho is a relatively new cultivar with early-ripening fruit with thin, smooth skin. The flavor is sweet, and the fruit size is large.
The flat-ish shape of the large Seto satsuma fruit makes them of particular interest to large-scale growers, since this makes them easier and more space-efficient to pack. This variety, along with the Miho variety, has been tested at various agricultural centers in Texas and is now a recommended variety.