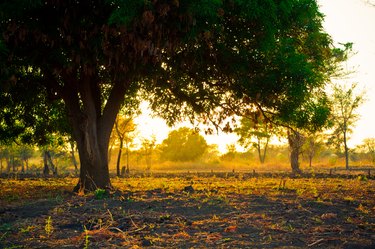 People have been growing mangoes as fruit-bearing trees for years. In the past, however, when mango trees were no longer able to bear adequate fruit, growers cut them down and discarded them or used them as firewood. Contemporary craftsmen have recognized the value of the wood, which they use as a building material, most prominently for making furniture.
Big, Fast and Sustainable
Mango trees grow in tropical Asia and Hawaii. They reach large sizes faster than other comparable hardwoods do, making mango more affordable than these varieties. The larger trunk diameter also makes wider boards possible. Mango farming is active on plantations, and the mango tree is considered a sustainable or "green" product because of its fast growth and the incentive to replant it for both fruit and lumber.
Colorful Fungus
Mango ranks 1,070 on the Janka scale, which rates wood for density. Domestic red oak, by comparison, ranks 1,290 on the same scale. The grain pattern and light-brown color resemble domestic birch, but because of spalting -- varied colors caused by a fungus growing in the wood -- streaks of pink, black, yellow, amber and green sometimes appear. Mottled or curly grain patterns are common in mango, making it appear blotchy, similar to the popular look of faded antique furniture. Because of its sustainability and widespread use, the cost of mango is moderate to inexpensive compared with other hardwoods. Highly spalted mango with vivid colors can command premium prices.
Making It With Mango
Mango is sturdy enough to use for structural parts of chairs, tables and other weight-bearing furniture pieces. Other applications include musical instruments, veneer, carved or turned objects, plywood, flooring, shelves, benches, cabinets and anything built with a comparable hardwood. Mango is durable, but to maintain its longevity, regular applications of oil-based stain, or any standard stain or topcoat used on other hardwoods, are beneficial. Finishing without stain is an option, but stains bring out mango's natural waves and patterns.
Workability
Woodworking tools cut mango with ease. However, due to a high silica content similar to that of teak, mango tends to blunt or dull blades and knives. Carbide-tipped blades are best when working with mango. Because it can contain pockets of crooked grain, mango may splinter or chip when milled. Chip guards on table saws help prevent splintering and feathering. Spalted mango is a form of decay, and in some instances, softer sections of spalted wood can cause blades to bind, so use caution when working with it and wear a dust mask.
---
Specializing in hardwood furniture, trim carpentry, cabinets, home improvement and architectural millwork, Wade Shaddy has worked in homebuilding since 1972. Shaddy has also worked as a newspaper reporter and writer, and as a contributing writer for Bicycling Magazine. Shaddy began publishing in various magazines in 1992, and published a novel, "Dark Canyon," in 2008.